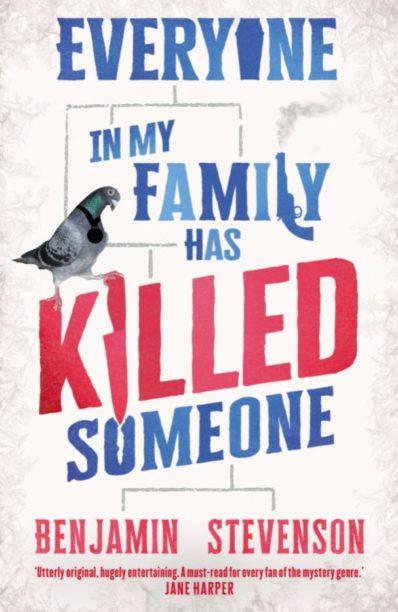 Aus crime wave continues: the fiction publishers are pitching at LBF
31 March, 2022
Australian publishing continues to ride a literary crime wave, with several local publishers bringing crime offerings to London.
'We are delighted to share Benjamin Stevenson's Everyone in My Family Has Killed Someone,' says Penguin Random House Australia (PRH) senior rights executive Jordan Meek. Described by the publisher as 'Agatha Christie meets Knives Out meets Richard Osman in a thoroughly modern take on the classic crime genre,' Everyone in My Family Has Killed Someone has been optioned for screen adaptation by HBO partnered with Made Up Stories and Endeavor Content and sold in 21 territories including North America (HarperCollins—Mariner), the UK (Penguin Random House— Michael Joseph), Russia (Azbooka-Atticus), Germany (Ullstein), China (Penguin China), Estonia (Rahva Raamat), Greece (Psichogios), Portugal (LeYa), France (Sonatine), Italy (Feltrinelli), Hungary (Agave), Romania (Trei), Brazil (Intrinseca), Israel (Modan), Lithuania (Baltos Lankos) Ukraine (Vivat), Spain (Planeta), Catalan (Planeta), and Poland (Foskal).
Also optioned for film, in this case by First Option Pictures, is Kyle Perry's debut crime novel The Bluffs, which has now sold in eight territories including Germany (Atrium Verlag), the Netherlands (HarperCollins Holland), Romania (Lebada Neagra), Estonia (Uhinenud), Czech Republic (Host), Russia (Arkadia) and Italy (Fauncci). Perry's second novel The Deep has sold in three territories—Germany (Atrium Verlag), The Netherlands (HarperCollins Holland) and Estonia (Uhinenud). 'We are eagerly anticipating his third novel to be published in October 2022, The Wild,' says Meek.
At Western Australian independent Fremantle Press, CEO Jane Fraser believes crime writer Dave Warner is 'grossly underestimated and underrepresented in other territories'. 'His 2022 new release After the Flood will mean we have three books in his award-winning Dan Clements series to take to London Book Fair,' says Fraser. 'Warner is a screenwriter as well as a novelist and we believe the filmic quality of his writing, the exotic remote destinations and the empathy with which he approaches his characters is a winning combination that international audiences will love, given the chance.'
Fellow independent Scribe will be pitching The Newcomer by Laura Elizabeth Woollett, a crime novel set on a sleepy Pacific island, in which the author of 2018's Beautiful Revolutionary 'convincingly and devastatingly evokes the everyday misogyny of the world her characters inhabit', according to Australian Book Review critic Jay Daniel Thompson. 'Politics and fiction haven't always been an easy combination, but they are here,' he writes.
Also with a foot in both the literary and crime fiction camps is 2021 Penguin Literary Prize winner Denizen by James McKenzie Watson (July), 'a gothic rural thriller exploring the simultaneous celebration of harsh country and stoic people', according to the publisher. PRH publishing director Justin Ractliffe, one of the judges of the prize, describes Denizen as 'a Venus flytrap of a book'. Fellow judge Simon McDonald says it is 'a novel everyone will be talking about … equal parts gripping, devastating and gut-wrenching' in its tackling of themes including fatherhood, mental illness and 'the ruggedness of rural Australia—both its people and the landscape'.
Literary fiction
Another literary prize winner being pitched at LBF is Petrichor by Aisling Smith (Hachette), which won Hachette Australia's 2020 Richell Prize for Emerging Writers. The judges said at the time that the novel  'announces an assured and evocative new Australian literary voice'. 'Smith, using the disintegration of a marriage, explores powerful themes around communication, race, culture and family,' the judges said. 'Aisling's writing is evocative and sophisticated, and the story is one all the judges want to read much more of.'
Cold Enough for Snow (Jessica Au), is another literary prize winner to look out for. Au's novel about a mother and daughter on a trip to Tokyo, won the inaugural Novel Prize which includes simultaneous publication by Giramondo Publishing in Australia and New Zealand, Fitzcarraldo Editions in the UK and Ireland, and New Directions in North America. The three publishers 'all admire the quality and sensitivity of Jessica's voice. It's wonderful to have an Australian writer—one with a strong international outlook—as the winner of the award's first edition,' says Giramondo associate publisher Nick Tapper.
Melbourne-based independent publisher Black Inc. will be sharing literary fiction from debut novelist Scott McCulloch. Basin (June), is 'a dark and compelling work' according to the publisher. 'Echoing the modernist tradition, and written in an incendiary yet elliptical prose style, Basin maps the phenomenon of a civilisation being reborn—a hallucinatory elegy to the inter-zones of self and place.'
Other literary fiction titles being highlighted at LBF by Australian publishers include Alex Miller's yet to be titled new novel, which Allen & Unwin rights and international sales manager Sandra Buol describes as 'a tender and humorous exploration of what it means to age and grow old, and how this can change us in new ways', and Hovering (Rhett Davis, Hachette), winner of the 2020 Victorian Premier's Unpublished Manuscript Award. The publisher says Hovering 'crosses genres, literary styles and conventions to create a powerful and kaleidoscopic story about three people struggling to find connection in a chaotic and impermanent world'.
Also look out for Peggy Frew's upcoming novel Wildflowers (A&U), 'a compassionate and surprisingly funny book about family and sisters and how we deal with the catastrophes life throws our way', and The One and Only Dolly Jamieson by Lisa Ireland (PRH, January 2023), which 'takes us from the Broadway glam of the 1960s to current day 80-year-old Dolly who insists she's not homeless, she just doesn't currently have a permanent abode'. 'Dolly's story jumps off the page, as does the friendship between Dolly and Jane and their shared past traumas and triumphs,' says Meek.
Finally, Hachette will be highlighting Enclave (July), the forthcoming third novel from critically acclaimed Noongar writer and author of Terra Nullius Claire G Coleman. A book in the tradition of Margaret Atwood and Naomi Alderman that 'explores a future of surveillance, disruption and segregation that echoes the horrors of a colonial past', Enclave is 'a powerful dystopian allegory that confronts the ugly realities of racism, homophobia, surveillance, greed and privilege and the self-destructive distortions that occur when we ignore our shared humanity'.
Originally published by Books and Publishing (Read More)