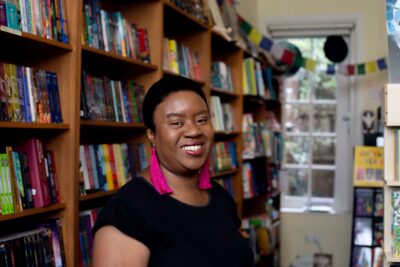 Aus publishers' latest acquisitions
21 February, 2023
Among the latest children's and YA acquisitions by Australian publishers:
Children's
Hardie Grant Children's Publishing (HGCP) has acquired two books by Maxine Beneba Clarke.
Releasing in June 2023, It's the Sound of the Thing: 100 new poems for young people, is Clarke's debut collection of poetry for children and teens. Aimed at upper primary through to lower secondary readers, the collection celebrates the joy of language and features 'evocative, enticing' poems about everyday life—the sounds of the block, the boredom of detention, the happenings in the schoolyard, a big brother's messy room, a grandfather's fading memory, a grandmother's garden magic.
HGCP publisher Chren Byng said: 'For all those young readers whose exposure to poetry is often via the words of generations past, this electric and eclectic modern collection will reinvigorate homes across the country.' The poems in the collection will also be line-illustrated by Clarke in black and white, for older primary readers.
'The aim of the book, apart from creating a really fun read for kids, especially after the last few years they've endured, is to provide a substantial collection of new contemporary poems for kids, to generate excitement about the many possibilities of language and poetry,' Byng said.
Clarke is the author of 10 books for children and adults, including fiction collection Foreign Soil, memoir The Hate Race, poetry collection Carrying the World and picture books The Patchwork Bike and When We Say Black Lives Matter, all published by Hachette. Clarke's second Hardie Grant title— 'a joyous picture book celebrating home and neighbourhood'—will be published in 2024.
Christmas press has acquired world rights to The Cave, an upper middle-grade novel by Victor Kelleher, via Margaret Connolly of Margaret Connolly and Associates, for publication in April 2024 under its Eagle Books imprint. Described by Christmas Press publishing director Sophie Masson as an 'extraordinary adventure' exploring loss, survival and courage, The Cave is set in the Palaeolithic times and follows teenagers Irian and Ulana who, with their Clan, have made a cave their home ever since they used fire to drive off the Beast—a savage sabre-toothed tiger.
Protected by an ongoing fire at the cave mouth, they continue to keep the Beast at bay until one fateful night when the fire goes out. What happens next shatters the Clan and leaves Ulana badly injured and Irian too traumatised even to speak. Alone and adrift, they have little hope of survival, until a chance meeting with a prickly old woman called Trug who, grudgingly, takes them on a journey of discovery, flinging them into the many wonders and hard realities of ancient times.
Explaining the genesis of the novel, Kelleher said: 'For almost as long as I can remember I've been fascinated by pre-history. In particular by the question of how our early ancestors, starting out as helpless wanderers on the plains of Africa, went on to become secure cave dwellers and greatly feared hunters. How did this great change come about? Clearly, the discovery of fire must have played a part. And so, too, the creation of better weapons and tools. But how did the change actually occur? That's precisely the story I've tried to tell in The Cave.'
Said Masson: 'Last year, we had the great delight of publishing Wanderer, Victor Kelleher's first new middle-grade novel for over fifteen years, to great reader acclaim and excellent reviews. Its success also saw the author reinvigorated to create more works for middle-grade readers, and The Cave is the brilliant result … as compelling, exciting and thoughtful as Wanderer, it too is sure to find many, many readers.'
Young Adult
Allen & Unwin (A&U) has acquired ANZ and Oceania rights to Shadows of Truth by Astrid Scholte, the sequel to her 2022 YA fantasy League of Liars, for publication in March 2024. It is described by the publisher as a 'fabulous and fast-paced' sequel with 'more intriguing magic and super high stakes'. 'With the cliff-hanger ending of League of Liars, I am so delighted to have signed up Shadows of Truth, which will take readers beyond the veil and into a dangerous world layered with magic and intrigue, mystery and danger,' says A&U children's and YA publisher Jodie Webster.
Scholte's debut novel Four Dead Queens was published by A&U in 2019 and was followed by the standalone novel The Vanishing Deep in 2020 and League of Liars in March 2022. Her books are published by Penguin Young Readers in North America.
UWA Publishing (UWAP) has acquired ANZ rights to Graham Akhurst's young adult novel Borderland, via Danielle Binks of Jacinta di Mase Management, for publication this year. Set in Brisbane and the fictional rural town of Gambari in western Queensland, Borderland explores issues of urban youth identity, cultural connection, land rights, and fracking and its ecological impacts, through protagonist Jono as he begins to understand his place in the world.
Akhurst is a First Nations writer and academic from northern Queensland. He was the recipient of the 2019 Fulbright W G Walker scholarship, the first Indigenous recipient of the award. Akhurst travelled to New York City in August 2019 to fulfil the program and completed an MFA at Hunter College in 2021. The author is 'thrilled and delighted' to be among the first commercial YA fiction acquisitions for UWAP.
Affirm Press has acquired world rights to Anomaly, the debut young adult novel by Sydney-based writer Emma Lord, for publication in 2024. Described by the publisher as Tomorrow When the War Began meets The Knife of Never Letting Go, the book follows 17-year-old Piper who thinks she's the last person left alive. Although she has survived the virus that took the lives of many, Piper has been left with frightening new abilities that make her reluctant to leave the safety of her isolated property and scared of the truth of what happened to her. When an injured boy washes up on the shore of her lake, Piper learns she isn't alone, but she is in danger. If she's going to survive, Piper will need to leave her safe haven, trust a stranger and face her ghosts.
'This high-octane work of YA speculative fiction is filled with breathtaking action sequences, intrigue, snarky banter and romance. It will ultimately leave you questioning the power of memory and how far you would go to survive,' said Affirm.
Of her debut, Lord said: 'I never could have predicted I'd be living through a deadly pandemic while writing a story that incorporates one. I was several drafts in when Covid-19 hit in 2020, and it was bizarre to see real life aligning with the craziness on the page. My fictional virus is very different to Covid, of course—but the initial stages of the real pandemic gave me a lot of material to work with, especially when it came to supermarkets and border closures!'
'Anomaly is exactly the kind of YA we've been looking for,' said Affirm senior editor of children's books Meg Whelan. 'It's loaded with rich world-building, high-energy pacing and authentic characters. It's the kind of YA that reminds you how much you love YA, and we can't wait to share it with the rest of the world.'
Pictured: Maxine Beneba Clarke
Photo credit: Leah Jing McIntosh
Originally published by Books and Publishing (Read More)