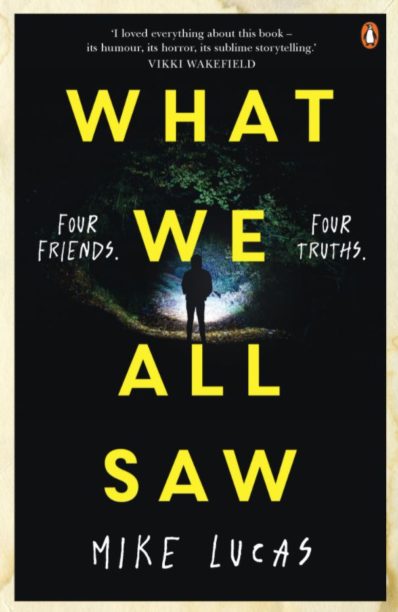 Aus YA shows its range
16 March, 2022
From horror to fantasy with some wit and mystery along the way, Australian YA shows its range in several recent deals.
Two recent acquisitions by Australian publishers present a similar premise: What We All Saw (Mike Lucas, Penguin) is 'an upmarket horror tale between four friends, four truths and one nightmare which brings them all together', while Walk in the Dark (Jane Godwin, Lothian) is 'a  gripping and suspenseful rite-of-passage novel about five teenagers and one night that will change them all' from the author of When Rain Turns to Snow, shortlisted for the 2021 CBCA Book of the Year for Older Readers as well as the Prime Minister's Literary Awards.
In contrast, Libby Lawrence is Good at Pretending (Jodi McAlister, Wakefield Press) is a 'sparkling, archly witty' campus novel that explores themes of authenticity, friendship, sex and romance, following the titular heroine as she finds herself at the heart of an amateur theatre production of Much Ado About Nothing.
And possibly landing somewhere in between is Where You Left Us (UQP), 'a YA mystery-coming-of-age-romance that was initially inspired by my living back by the sea in 2020 and thinking about what it means to belong to a place where you grew up' according to author Rhiannon Wilde, whose YA debut Henry Hamlet's Heart recently sold to Charlesbridge in the US. Wilde says her new novel is 'about sisters, mental health, love and hate, history, and ghosts; think Wuthering Heights meets Sherlock Holmes, if Kristen Stewart played Heathcliff and Holmes and Watson were teenagers with social anxiety—all set on the beach'.
Another recent sale to the US is YA fantasy novel Liar's Test (2023) by Ambelin Kwaymullina, which went to Knopf Books for Young Readers via Kate Detweiler at Jill Grinberg Literary Management. The story of a teen girl who, after being held captive since childhood by the ruling sun priests of the Risen has now been selected as a candidate for the Queen's Test, giving her one chance to win the crown, topple the kingdom and free her people; it is 'drawn from and inspired by the history of Aboriginal women and their resistance to settler-colonialism', reports Publishers Marketplace. Kwaymullina is the author of 'The Tribe' series of novels, including The Foretelling of Georgie Spider, The Disappearance of Ember Crow and The Interrogation of Ashala Wolf. The Things She's Seen (published as Catching Teller Crow in Australia), Kwaymullina's first joint young adult novel with her brother Ezekiel, won the Victorian Premier's Literary Prize for Young Adult Fiction and the Aurealis Award for Best Young Adult Novel, among other awards.
Another fantasy YA novel The Upwelling, by debut author Lystra Rose (Hachette), winner of the black&write! prize for First Nations writers, is about a young surfer mysteriously called into an alternate world. When Kirra, an Aboriginal high school student and avid surfer from the Gold Coast, catches a wave on the same break that killed her brother years earlier, she somehow time-slips into a land without European influence. Here, she meets Narn, a young Aboriginal man with a remarkable gift, and Tarni, daughter of renowned warrior Minjerra, learning that the three have an important role to play in this community, as do their newly discovered magic powers.
Originally published by Books and Publishing (Read More)