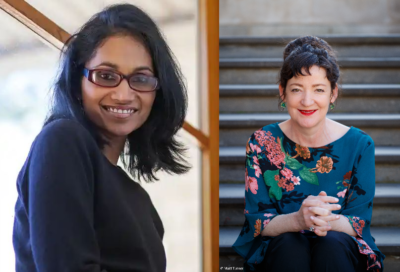 Australian authors recommend
12 October, 2022
Australian authors tell us the most recent book they have read and loved, and why.
Michelle Kadarusman is the author of the middle-grade book on animal activism Berani (A&U Children's, November).
I usually have a few books on the go, both children and adult reads. Two newer books that really stood out for me recently were Rainfish by Andrew Paterson (Text) and The Islands by Emily Brugman (A&U). Both evoked such lush worlds and were truly enchanting in both setting and voice.
Meg Foster is the author of forthcoming Boundary Crossers: The hidden history of Australia's other bushrangers (NewSouth, November)
Dropbear by Evelyn Araluen. It is a raw, evocative and powerful book of poetry that looks at Australia through a vivid and unvarnished lens. Many poems have First Nations' perspectives at the forefront, weaving colonial history and our contemporary reality seamlessly together to show how this history is alive in the present.
I love this book because it is searing. It gets under your skin. It is visceral and doesn't shy away from fraught issues and questions. It's also an incredibly generous book. Araluen has offered so much of herself in its pages; has shown us her anger and frustration and what injustice in this country looks like. But in showing us what is wrong, she also offers new insights that we can take forward; to face and resist our colonial past, so its legacies don't continue to contaminate our future.
Tobias Madden is the author of the YA coming-of-age rom-com Take a Bow, Noah Mitchell (Penguin).
A book I recently read and adored was Holden Sheppard's upcoming YA novel The Brink (Text). On the surface, it's a hard-hitting story about a group of school leavers who get themselves in some epic trouble on an island off the coast of Western Australia, but if you look a little deeper, it's a fascinating exploration of masculinity and sexuality and the intersection between the two. I tore through it in a couple of sittings, which is super rare for me!
Sophie Cunningham is the author of the novel This Devastating Fever (Ultimo).
I've just finished Bedtime Story by Chloe Hooper (S&S). It's a beautiful book, about the act of story telling and about the traumas that sometimes lie at the heart of a good story. And I really liked the layout and the illustrations. It's a very lovely piece of publishing.
Claire G Coleman, an award-winning Noongar writer and poet, is the author of Enclave (Hachette).
It's not the last book I have read and loved but whenever I think of this question I am again struck by how much I loved the final book in Palyku writer Ambelin Kwaymullina's 'The Tribe' series, The Foretelling of Georgie Spider (Walker Books). Stories have a power to shine a light into the dark places of the world, to show us where we are going and perhaps how to avoid going there. We can also learn through stories where we might want to go.
The Foretelling of Georgie Spider is one of those books; the conclusion is far more powerful than I was ready for. Read the series, build up to the ending and when you feel it you will really feel it.
Lauren Draper is the author of YA novel The Museum of Broken Things (Text).
I adored Rhiannon Wilde's debut novel Henry Hamlet's Heart (UQP). It's such a beautiful and warm novel, and perfectly balances the teenaged experience of friendship, futures, and first loves. I can't actually keep a copy in my house, because I keep giving it away to everyone who comes to visit (my recommended reads are not optional, thanks).
Jasmine Seymour is an award-winning Dharug author and illustrator. Her fourth picture book is Open Your Heart to Country (Magabala).
The last book I read and loved is the picture book Sea Country by Aunty Patsy Cameron and Lisa Kennedy (Magabala). I picked it up in the school library last week and the illustrations took my breath away. [I am] so inspired by this work.
Pictured L–R: Claire G Coleman, Tobias Madden
Originally published by Books and Publishing (Read More)