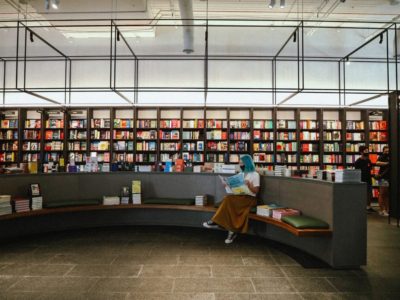 Australian book market overview 2021
31 March, 2022
After a pandemic-fuelled record year in 2020—during which sales of books in Australia grew 7.8% to A$1.25 billion (unit sales for the year were 67 million) according to Nielsen BookScan—in 2021, the Australian book market experienced more modest growth of only 2.5% in value to A$1.3 billion. (Nielsen reported book sales in 2021 fell 1% in volume compared to 2020, to 65.4 million units sold.)
The start of 2021 felt briefly like a return to 'normal' as the country's Covid suppression strategy—in the form of widespread lockdowns and closed national and internal state borders—appeared to be working. Midway through the year, however, the Delta variant hit, resulting in severe lockdowns on Australia's populous east coast. And while locked down Australian booksellers were able to continue selling online via 'click and collect' only, they reported that lockdown sales in 2021 were down compared to the first year of the pandemic.
In August, Nielsen reported that simultaneous lockdowns across several states had led to year-on-year declines in both the value and volume of print book sales—the week ending 17 July saw the print book market down 4% in value and 8% volume compared to the same period in 2020. Meanwhile, the following week saw a double-digit decline in value and volume compared to the same week in 2020. However, when booksellers in New South Wales were able to reopen their stores again to customers in October, sales bounced back—Australian book sales for the week ending 16 October 2021 broke the average BookScan weekly sales record for that time of year over the previous decade, in what was the second-biggest week of 2021 to date for unit sales.
As stores reopened, hopes were high for a strong Christmas, especially given the titles on offer from publishers, which most booksellers regarded as strong. However, pandemic-related supply issues in the lead-up, particularly in the eastern states, meant that despite Christmas sales essentially matching 2020's bumper season, most of the 120 booksellers (54%) surveyed by Books+Publishing in our annual Christmas retail survey actually experienced a worse Christmas than they were expecting, with only 6% reporting it was 'better than expected' and the remaining 40% saying it was 'close to expectations'. Almost every bookseller who responded to the 2021 survey mentioned being affected by supply chain issues to varying degrees. 'It was very nerve-wracking with so many unknowns and things out of our control, so I was in a constant state of nervousness about Covid, staff and supply,' said one Melbourne bookseller.
The story of high hopes being dashed by the reality of the Covid supply chain is best illustrated by booksellers' responses regarding Christmas sales versus anticipated returns. While more than half (55%) said sales were up on the previous year and only 17% said sales were down (with 28% reporting sales were 'about the same' as Christmas 2020), a whopping 82% expected returns to be higher than the previous year, with 15% expecting 'about the same' and only 3% expecting their returns to be lower.
According to Nielsen, overall book sales in the final four weeks before Christmas 2021 were flat, slightly down in volume (-1.7%) but up very slightly in value (+0.6%) across all categories. In the four weeks to Christmas, Australian book retailers sold 10.3 million titles, down from 10.4 million in the same period of 2020, and with a value of $202 million, up from $200.9 million in 2020.
Manga drives growth; audio on the rise
The market's ultimate overall growth in value in 2021 of 2.5% was driven by adult fiction, and most notably by manga sales, according to Nielsen. (Nielsen's 2021 sales figures included 52 weeks of sales vs 53 weeks in 2020; however, percentage change figures are based on 52 weeks of sales in both years.) In contrast to the growth in adult fiction, the children's category declined (-0.2%) on 2020 sales, while trade nonfiction grew by just 1.3%—driven by autobiographies and food and drink.
Within adult fiction, the science fiction and fantasy category grew 9% and Hachette in particular benefitted from film and television adaptations, including Dune (Frank Herbert) and The Witcher (Andrzej Sapkowski). However, it was the manga category that was the standout. According to Nielsen, the overall adult fiction category in 2021 grew by 6.9% compared with 2020, with manga up a massive 86%. Romance was also up significantly (+16%) off the back of fiction from BookTok-boosted authors, including 'the big winner here' Colleen Hoover, who is published in Australia by Simon & Schuster (S&S).
Not surprisingly, given its BookTok star authors and manga clients, S&S had a bumper year—the publisher's core print business grew by 6% in 2021, while sales by its distribution clients grew by 81%, with manga publisher Viz Media leading the charge and almost doubling its sales. According to Nielsen, S&S recorded value growth of 24% in 2021 compared to the previous year, the highest growth rate among large publishers in Australia (with large being defined as those with turnover above $250,000).
Also unsurprising, given the growth in manga, was that Australian bookselling chain QBD Books launched a dedicated manga online shop in 2021: sales of manga from all publisher groups more than doubled in Australia both in volume and value compared to previous years, with 10 times the amount of manga being sold in Australia in 2021 compared to 2014. According to QBD Books, the retailer holds a 30% share of the Australian manga market.
While a new ebook sales tracking service launched by Nielsen in 2021 indicated that lockdowns the previous year prompted growth in ebook sales (with sales peaking during the first Covid lockdowns in April and up by over 26% on April 2019), anecdotally, ebook sales plateaued in 2021. S&S Australia reported its ebook sales locally had declined in line with the US, where the company reported a 9% drop in ebook revenue. However, audio 'surged by 73%' in Australia for S&S, and anecdotal evidence points to audio as a growth format through the pandemic.
Bestselling titles
The bestselling author of 2021 in Australia was J K Rowling, with $11.7 million sold across 417,000 units, according to Nielsen, while Australian children's author Anh Do held onto the number-one spot on the local authors list, with $9.9 million from 955,000 units sold.
When it came to individual titles, local authors were extremely popular, with books by Australians taking out the top five places in Nielsen's overall 2021 bestseller chart. Liane Moriarty topped the overall top 10 for 2021, with sales of almost 200,000 for her novel Apples Never Fall, released in September 2021. Memoir The Happiest Man on Earth by the late 100-year-old Holocaust survivor Eddie Jaku came in at number two with 126,500 copies sold, followed by the latest instalment in the popular 'Treehouse' children's series, The 143-Storey Treehouse, which sold 108,970 copies for the year after its October 2021 release. Perennial bestsellers financial guide The Barefoot Investor (Scott Pape, 108,320 copies) and historical novel The Dictionary of Lost Words (Pip Williams, 92,880 copies), published in 2016 and 2020 respectively, rounded out the all-Australian top five.
Top 10 bestselling titles in Australia in 2021
Apples Never Fall (Liane Moriarty, Macmillan)
The Happiest Man on Earth (Eddie Jaku, Macmillan)
The 143-Storey Treehouse (Andy Griffiths & Terry Denton, Pan)
The Barefoot Investor (Scott Pape, Wiley)
The Dictionary of Lost Words (Pip Williams, Affirm)
Better Off Dead (Lee & Andrew Child, Bantam)
Where the Crawdads Sing (Delia Owens, Corsair)
The Boy, The Mole, The Fox and The Horse (Charlie Mackesy, Ebury)
Bluey: The Pool (Puffin)
Bluey: Big Backyard (Puffin).
© Nielsen BookScan 2022. Period covered: week ending 3 January 2021 to week ending 1 January 2022. Data supplied by Nielsen BookScan's book sales monitoring system from 1000 retailers nationwide.
While Nielsen captured the overall bestsellers, the following titles were the ones most mentioned by booksellers in the Christmas survey as selling well over the Christmas period. Led by local writer Hannah Kent's third novel Devotion, the list also includes the first book of nonfiction by popular Australian author Trent Dalton (Love Stories) and 2021 Booker Prize winner The Promise by South African writer Damon Galgut.
Booksellers' most mentioned titles, Christmas 2021
Devotion (Hannah Kent, Picador)
Love Stories (Trent Dalton, HarperCollins)
Apples Never Fall (Liane Moriarty, Macmillan)
Ottolenghi Test Kitchen: Shelf Love (Yotam Ottolenghi & Noor Murad, Ebury)
The Promise (Damon Galgut, Chatto & Windus)
Still Life (Sarah Winman, Fourth Estate)
The 143-Storey Treehouse (Andy Griffiths & Terry Denton, Macmillan)
Costa's World (Costa Georgiadis, ABC Books)
Klara and the Sun (Kazuo Ishiguro, Faber)
The Happiest Man on Earth (Eddie Jaku, Macmillan).
Pandemic boosts online sales
'The pandemic largely benefited online sales over bricks and mortar,' said Jo Lewin of Booktopia, Australia's largest online-only book retailer, which listed on the Australian stock exchange at the end of 2020. Booktopia's results for the 2021 financial year bore this out—the company reported revenue growth of 35% for the financial year, with revenue of $223.9 million, up from $165.7 million in the 2020 financial year. This was on the back of 8.2 million units shipped, up 27% from 6.5 million; an average annual spend per customer of $126.85, up from $111.43; and an average order value of $71.07, up from $65.08.
The second half of 2021 was less rosy for the online retailer—Booktopia's profits halved in the six months to 31 December compared to the same period last financial year, but this was despite a 15.5% revenue rise for the same period, indicating Australian book buyers still seemed to be purchasing record numbers of books online.
Indeed, the pandemic boon to online has not been ignored by bricks-and-mortar retailers either. With lockdowns sending customers online, Australian booksellers have reported that having an internet presence is a must. 'Our online store was critical last year as we were in a lockdown area,' one NSW bookseller told Books+Publishing in the Christmas survey. 'We wouldn't have a business without online sales over the last two years,' concurred a specialist city bookseller. Of those booksellers surveyed, 70% of respondents sold books online for Christmas 2021 and of those 10% were selling online for the first time. However, online sales are still a modest portion of business for most booksellers, representing well below 10% of total sales for most independent bricks-and-mortar sellers.
Other notable developments in the Australian book landscape in 2021 included the establishment of Welbeck ANZ, an Australian and New Zealand subsidiary of the UK publisher established in partnership with Booktopia. Booktopia will invest $3 million to hold a 25% stake in Welbeck ANZ, with former Echo Publishing general manager Bernadette Agius as managing director of the local business. Booktopia also integrated independent publishing house Brio Books into its business in 2021.
Pictured: Bookselling chain Readings' new Emporium store in Melbourne's CBD, which opened in 2021.
Originally published by Books and Publishing (Read More)