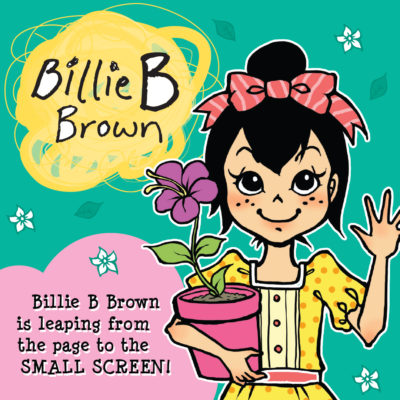 Australian children's, YA titles headed for screen – by Think Australian
7 October, 2020
After a decade in print, Sally Rippin's bestselling Billie B Brown junior fiction series (Hardie Grant Egmont) is finally heading to the screen. Global production company Fremantle and development partner 720 Creative have acquired screen rights to the children's book character Billie B Brown, describing the brand as having 'enormous potential for an international screen audience'. The series, which has sold over five million copies in 14 languages around the world, is just one of many Australian junior fiction and YA adaptations in the pipeline.
Screen rights have also recently been sold for the 'Real Pigeons' junior fiction series by Andrew McDonald and Ben Wood (Hardie Grant Egmont), in addition to a number of international rights deals. The books—about a secret squad of crime-fighting pigeons—will be developed by the host of The Late Late Show James Corden into an animated movie and TV series for Nickelodeon.
In YA, recent screen options include a verse novel, a queer coming-of-age story, a psychological thriller and a supernatural trilogy.
Ali Cobby Eckermann's verse novel Ruby Moonlight (Magabala Books), which explores the impact of colonisation in Australia, has been picked up by production company Arenamedia via Natasha Solomun at The Rights Hive. Arenamedia's head of development Louise Gough said she was 'blown away by [the novel's] form, narrative power, themes and artistic fortitude'.
Holden Sheppard's award-winning YA novel Invisible Boys, which follows three queer young men in regional Australia, has been optioned for film and television by Australian director Nicholas Verso and producer Tania Chambers via Haylee Nash of the Nash Agency. Sheppard said he and Verso 'both have very similar ideas about the kinds of gay stories we would desperately love to see more of in the world'.
Jodi McAlister's supernatural YA trilogy 'Valentine' (Penguin Random House Australia), Sarah Epstein's psychological thriller Small Spaces (Walker Books Australia) and Krystal Sutherland's A Semi-Definitive List of Worst Nightmares (Penguin Random House Australia) have also been optioned for the screen in recent months.
Literary agent Alex Adsett told Think Australian that producers are on the hunt for great middle-grade and YA content, which Australia is delivering in spades. 'With the success of YA shows like To All the Boys I've Loved Before, Sabrina and Riverdale, there's a proven global market,' says Adsett. 'Just in YA, I've optioned Welcome to Orphancorp, Valentine and Small Spaces. Otherwise, I've been hearing some great producers are snapping up middle-grade series too.'
For the latest Australian rights sales news, click here.