Australian international rights sales up by volume and value: new report
26 October, 2021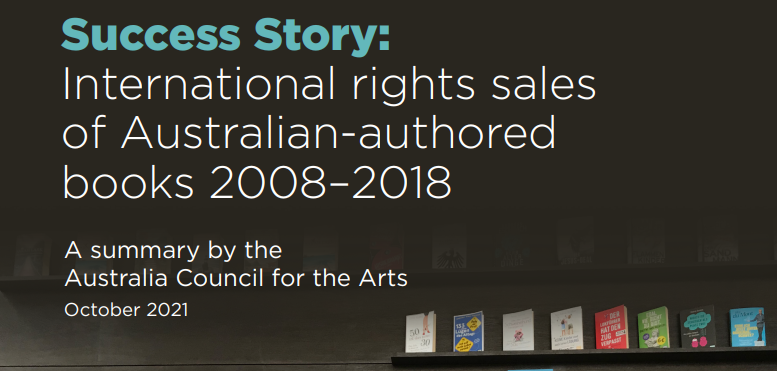 The Australia Council has released the results of its research into Australian international book rights sales. The original research for the report was based at Macquarie University and supported by the Australia Council for the Arts and the Copyright Agency's Cultural Fund.
Success Story: International rights sales of Australian-authored books looks at data reported by publishers and agents from 2008 to 2018. According to the report, the number of rights sales increased over the period, with a corresponding growth in the value of the Australian international rights market.
Paul Crosby, one of the report's authors alongside Jan Zwar, Airlie Lawson and Sunny Shin, told Books+Publishing (B+P) the value of rights sales over that time is highly correlated to the number of sales. 'The total value of rights sales has also been on the rise since 2012,' he said. 'The relative distribution of advance sizes remains fairly constant year on year, so more deals mean a higher total value.'
Based on the data collected for the period, the researchers estimate the Australian international rights market is worth more than A$10 million per year on average. 'A$10.4m per year (on average) is our upper bound estimate for the sample collected. A$7.6m per year (on average) was our more conservative mid-point estimate,' said Crosby. However, he added, 'Given that we don't collect 100% of the deals or royalty amounts these figures will likely be higher.'
The researchers collected data via a questionnaire completed by trade publishers and literary agents only, and the resulting report does not include the activities of educational publishers or 'companies which publish books as a minor or subsidiary business'.
According to the findings of the report, during the period 2008–2018 Australian publishers made 9315 individual rights sales deals for 1792 unique authors and 3842 unique titles. These deals were made into 92 territories as well as for 'world' rights.
Of these deals, almost two-thirds (64%) were secured by large publishers. Just over one fifth (23%) of deals were secured by agencies and 10% by small publishers, defined as those with annual turnover between A$100,000 and A$10 million. Micro publishers accounted for the remaining 3% of deals.
China, children's books dominate
The deals covered in the report were made for 70 languages, with Chinese (both simplified and complex) the most frequently specified language (14%) after English (20%). Next most popular were Korean (7%), German (6%) and Portuguese (4%), with these top five languages making up more than half (51%) of all deals, followed by French, Spanish, Turkish, Polish and Dutch.
Not surprisingly, given it was the second-most popular language overall, China has emerged as the dominant territory each year since 2010. However, when looking at territories, the report cautions that it is important to keep in mind that its rankings 'exclude the 16.5% of deals for combined territories' such as world or Latin American rights, which do not specify a particular territory. 'The actual reach of Australian authored titles is much wider when such deals are factored in.'
China accounts for many of Australia's rights deals and these are overwhelmingly for children's books. 'Over three-quarters of Chinese and Korean translations relate to middle grade and picture books, providing evidence of the strong and growing demand for titles aimed at younger readers from these large Asian markets.'
Indeed, kids and young adult was by far the most popular genre for overseas rights sales for the 2008 to 2018 period across all territories. More than half of the rights sold (54%) during this time were for titles targeted at younger readers: middle-grade was the most popular (27%), followed by picture books (21%) and teen and young adult (6%).
In adult titles, fiction (including literary, commercial and crime and thriller) made up 24% of all deals reported, not far ahead of adult nonfiction, which accounted for the remaining 22% of deals.
As for what has driven the growth in international rights deals, 'greater awareness of the quality of Australian authors from overseas publishers and agents' was both the most selected and highest-ranked reason. Behind this awareness, 'participants emphasised the importance of inbound and outbound rights and market delegations' including attendance at book fairs, trips to key markets and the Australia Council's Visiting International Publishers (VIPs) program. 'Almost every conduit for rights sales that was listed in the survey was rated as useful, and not one respondent said they wouldn't use an available mechanism again.'
Certainly the finding that all respondents placed a high value on in-person networking, 'raises questions about the ability of the industry to function amidst the disruptions to international travel caused by Covid-19'.
Download the full report from the Australia Council website here.
This is an edited extract of an article originally published by Books+Publishing. To sign up to B+P's international rights newsletter Think Australian, click here.