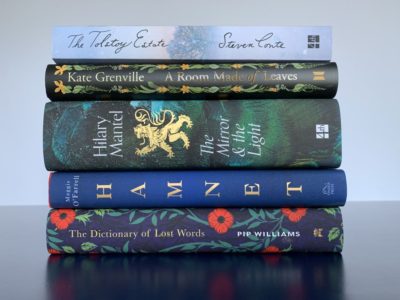 Australians comprise majority of Walter Scott Prize shortlist
23 March, 2021
Three out of the five books shortlisted for the £25,000 (A$44,900) Walter Scott Prize for Historical Fiction are by Australian authors.
The five shortlisted novels are:
The Tolstoy Estate (Steven Conte, Fourth Estate)
A Room Made of Leaves (Kate Grenville, Text)
The Mirror and the Light (Hilary Mantel, Fourth Estate)
Hamnet (Maggie O'Farrell, Tinder Press)
The Dictionary of Lost Words (Pip Williams, Affirm).
Each shortlisted writer receives £1500 ($2700) and, according to the judges, 'For the first time in the history of the Walter Scott Prize, Australian authors comprise the majority of our shortlist.' The 2021 shortlist was chosen from a longlist announced in February that also included Australian writer K M Kruimink's A Treacherous Country (A&U).
The judges said: 'With imaginations and styles as varied as they are inspired, we have Pip Williams slipping us gently, hauntingly, into the Oxford English Dictionary; Steven Conte's unflinching weaving of war and peace in the shadows of Tolstoy's estate; and Kate Grenville expertly stitching the unreliable but compelling testimony of the remarkable Elizabeth Macarthur into an exploration of the meaning of home.'
The prize is among the richest awards for fiction in the UK and was first awarded to Hilary Mantel in 2010 for Wolf Hall (Fourth Estate). Mantel is again up for the prize with the final book in her Thomas Cromwell trilogy, as is Maggie O'Farrell's 2020 Women's Prize winner Hamnet.
The winner, usually announced at the UK's Borders Book Festival, will be announced online in June. For more information, see the website.
Originally published by Books and Publishing (Read More)