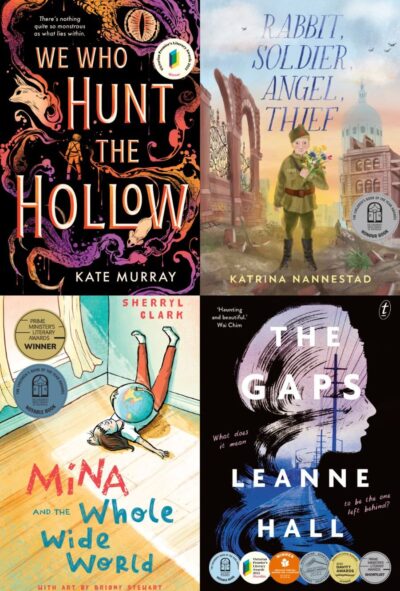 Award winners
21 February, 2023
Lystra Rose has won the $25,000 Victorian Premier's Literary Award for Indigenous Writing for her YA debut novel The Upwelling (Hachette Australia), while We Who Hunt the Hollow (Kate Murray, HGCP) took out the $25,000 YA category in the awards. In other state-based awards, Ella and the Ocean (Lian Tanner & Jonathan Bentley, A&U) took out the $25,000 young readers and children category in the 2022 Tasmanian Literary Awards announced in December.
The winners of the 2022 Prime Minister's Literary Awards (PMLAs), worth $80,000 in each category included The Gaps (Leanne Hall, Text) for YA and Mina and the Whole Wide World (Sherryl Clark, illus by Briony Stewart, UQP) in children's; and Katrina Nannestad won the $30,000 children and young adult (CYA) category of the ARA Historical Novel Prize for the second year running, this time for Rabbit, Soldier, Angel, Thief (ABC Books), with her WWII-set middle-grade novel We Are Wolves (ABC Books) awarded the inaugural CYA prize last year. Rabbit, Soldier, Angel, Thief is also set during WWII, but this time in Russia during the Great Patriotic War.
Australian bookselling groups and chains have recognised the following books for children and young adults: Dymocks chose Craig Silvey's Runt (A&U) in the newly added Young Readers Book of the Year Award category; QBD chose A Girl Called Corpse (Reece Carter, A&U) in the children's category of its 2022 Books of the Year; and independent bookselling chain Readings has recognised Underground (Mirranda Burton, A&U) in its Young Adult Book Prize and The Sugarcane Kids and the Red-bottomed Boat (Charlie Archbold, Text) in its Children's Book Prize, each worth $3000.
Meanwhile, book buying group Leading Edge has announced the shortlists for the 2023 Indie Book Awards, chosen by independent booksellers from around Australia. Shortlisted in the children's category are: Frank's Red Hat (Sean E Avery, Walker Books), Ceremony: Welcome to Our Country (Adam Goodes & Ellie Laing, illus by David Hardy, A&U Children's), Guardians: Wylah the Koorie Warrior 1 (Jordan Gould & Richard Pritchard, Albert Street) and Runt (Craig Silvey, A&U). In YA, the shortlisted titles are: Cop and Robber (Tristan Bancks, Puffin), The Museum of Broken Things (Lauren Draper, Text), Unnecessary Drama (Nina Kenwood, Text) and The Brink (Holden Sheppard, Text).
Some books come with an award before they even hit the shelves. YA novel Maria Petranelli is Prepared for Anything (except this) (Elisa Chenoweth, Hardie Grant Children's Publishing, 2024), an 'outrageously funny, tender-hearted and awkward queer screwball comedy' following 16-year-old Maria as she abruptly decides to go on student exchange to Italy to get away from her overbearing Australian-Italian family', has won the Hardie Grant Children's Publishing 2022 Ampersand Prize.
Originally published by Books and Publishing (Read More)