A Secret Safe to Tell
Naomi Hunter, Karen Erasmus
It happened when I was little, always when we were alone… But sometimes he did things that worried me, and made me feel completely strange on the inside.
I thought games were supposed to be FUN.
This is a gentle book that encourages meaningful conversations about body safety, the importance of not keeping secrets and confiding in trusted adults if something is making you uncomfortable.
It's the most remarkable kid's book published in a long time; if I could hand-deliver a copy to every family in Australia, I would. It's that important.'
Thank you for reminding me what books are for
Within three months of this book's release, 10 young children disclosed sexual abuse while reading it. They were saved by this book.
Winner

Children's Choice Awards China, 2019
Shortlist
ISBN

9780994501004
RRP (AUD)

$17.00
Format

Paperback
Category

child protection, body safety
Naomi Hunter
Naomi is a dual ABIA shortlisted author. She is a passionate author of children's story books that nurture and empower children.
Empowering Resources
We publish beautiful children's books that nurture, educate and empower children. Our Australian authors and illustrators have collaborated to produce the highest quality stories that positively impact children around Australia and around the world.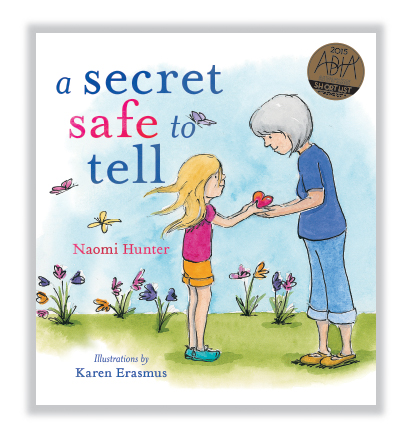 Rights

World, exc. China, Taiwan, ANZ
Rights Sold
Contact
Email
Website