Bodies of Light
Jennifer Down
So by the grace of a photograph that had inexplicably gone viral, Tony had found me. Or: he'd found Maggie.
I had no way of knowing whether he was nuts or not; whether he might go to the cops. Maybe that sounds paranoid, but I don't think it's so ridiculous. People have gone to prison for much lesser things than accusations of child-killing.
A quiet, small-town existence. An unexpected Facebook message, jolting her back to the past. A history she's reluctant to revisit: dark memories and unspoken trauma, warning knocks on bedroom walls, unfathomable loss.
She became a new person a long time ago. What happens when buried stories are dragged into the light?
This epic novel from the two-time Sydney Morning Herald Young Novelist of the Year is a masterwork of tragedy and heartbreak—the story of a life in full. Sublimely wrought in devastating detail, Bodies of Light confirms Jennifer Down as one of the writers defining her generation.
'In Bodies of Light, Jennifer Down crafts a story of almost impossible regeneration from the ashes of unbearable pain and loss…With ethical precision, Down insists that we do not look away from the destructive consequences of life on the fringes, that we do not render invisible those who come through, miraculously, despite decades spent in the shadows of institutionalised neglect, socially sanctioned loneliness, unforgivable poverty and the attendant abuse that accompanies these conditions…Bodies of Light is a novel of affirmation, resilience and survival, told through an astonishing voice that reinvents itself from age six to sixty.'
'Brutal and beautiful—I couldn't stop reading it. Jennifer Down is a brilliant writer.'
'Fierce and compelling. Down's compassion for her character, her refusal to look away from intolerable suffering, is a lesson for us all. A novel with immense dignity and heart.'
Awards

Winner, Miles Franklin Literary Award, 2022
Release

Oct-2021
ISBN

9781925773590
Pages

448
Format

Paperback
Category

Fiction
Jennifer Down
Jennifer Down
Text Publishing
Text Publishing is an independent, Melbourne-based publisher of literary and commercial fiction and non-fiction. Text has been awarded the ABIA Small Publisher of the Year three times and won the Leading Edge Books Small Publisher of the Year in 2018 and 2019.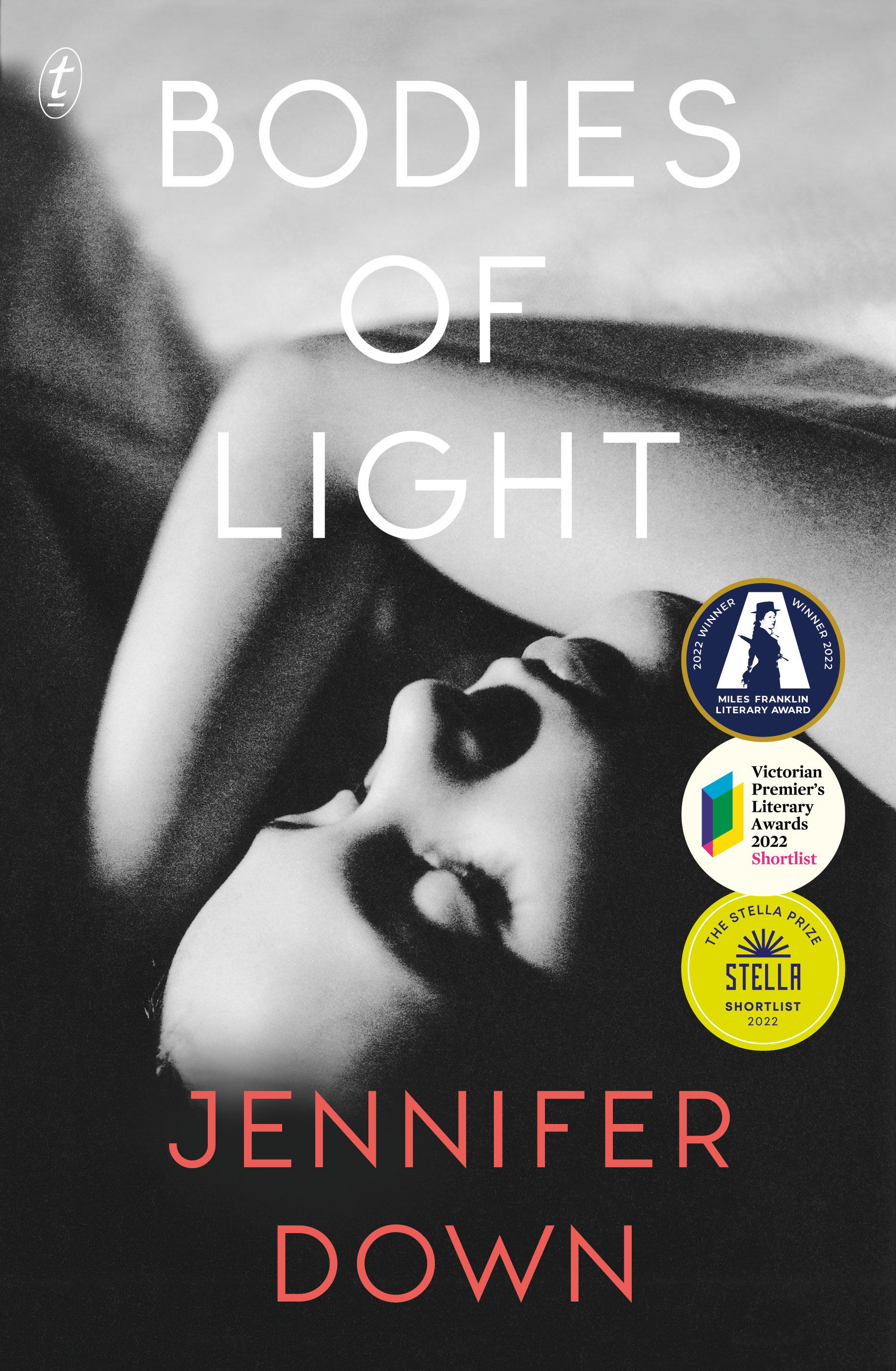 Rights
Rights Sold

ANZ audio; German; North American audio; Russian; Spanish.
Contact
Email
Website