Building and Sustaining a Teaching Career
Narelle Suzanne Lemon, Sharon McDonough
Professional experience in initial teacher education programs can be both a challenging and rewarding experience. As student teachers take their first steps in the classroom, they often encounter stresses that compromise their teaching and learning. Within this context, well-being, resilience and self-efficacy are critical to their success. Building and sustaining a teaching career introduces the coping strategies, informal and formal practices, time management and organisational skills, and positive psychology critical to self-care for professional experience. The text uses case studies, 'fill your bucket' strategy building solutions, reflection activities and discussion and journaling questions designed to build capacity and develop reader knowledge, while pre-service teacher voices highlight key elements through real-world perspectives and experiences. Drawing upon a combination of teaching experience and education research, Narelle Lemon and Sharon McDonough present thoughtful, practical approaches that equip pre-service teachers with the necessary skills and knowledge for embarking on a successful teaching career.
Combines emerging scholarly discourses around mindfulness and student teacher well-being with practical strategies that are readily useable in classroom contexts
Features a friendly and approachable writing style that translates complex theoretical terminology in an easily digestible and engaging manner
Draws close parallels with everyday teacher student experiences through the inclusion of 'real-world' voices from the classroom
Release

May-2020
ISBN

9781108724722
RRP (AUD)

$79.95
Pages

260
Format

Paperback & ebook
Category

Education
Narelle Lemon and Sharon McDonough
Narelle Lemon is an Associate Professor in the Department of Education at Swinburne University with research areas focused on participation and engagement. Sharon McDonough is a Senior Lecturer and researcher in initial teacher education and teacher development at Federation University Australia.
Cambridge University Press
Our vision is a world of learning and research inspired by Cambridge, where we enable people to achieve success by providing the best learning and research solutions and where we use our profit for purpose, contributing to society by furthering the mission of our University.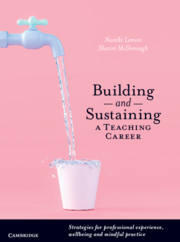 Rights
Contact
Email
Website