Eating with My Mouth Open
Sam van Zweden
'To eat is to build upon our collective story. We use food to say, again and again, who we are.'
Food. Hunger. Memories. Eating with My Mouth Open is food writing like you've never seen before: honest, brave, and exceptionally tasty. Lyrically written, Sam van Zweden offers a millennial response to classic food writers, revelling in body positivity on Instagram, remembering how Tupperware piled high with sweets can be a symptom of spiralling mental health, dissecting wellness culture and all its flaws, sharing the joys of living in a family of chefs and seeing her family's migrant history on her dinner plate. Her reflections on her own body and her complex relationship with food are courageous and inspiring.
Recalling the writing of Lindy West and Roxane Gay, as well as classic food writers M.F.K. Fisher and Brillat-Savarin, Eating with My Mouth Open considers embodiment and the meaning of true nourishment within the broken food system we live in. Not holding back from the struggles of mental illness and difficult conversations about weight and wellbeing, she advocates for a body politics that is empowering, productive and meaningful.
'This is writing as sustenance. The book's moments of deep insight and intimacy, all its quiet revolutions, are answerable – as is the case with the most enduring nonfiction – to two gods only: truth and nurture.'
Release

Feb-2021
ISBN

9781742236988
RRP (AUD)

$29.99
Pages

224
Format

Paperback
Category

FOOD, MEMOIR
Sam van Zweden
SAM VAN ZWEDEN is a Melbourne-based writer.
NewSouth Publishing
NewSouth Publishing is the publishing division of UNSW Press Ltd, a leading Australian university press.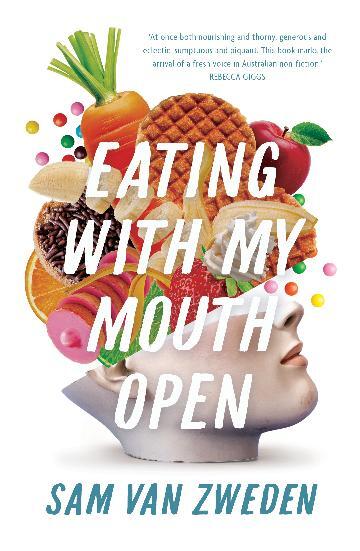 Rights
Contact
Email
Website