Freak Out: How a Musical Revolution Rocked the World in the Sixties (Nov 2021)
Tony Wellington
The sixties was an era of extraordinary change and earth-shattering events. The music scene responded with popular anthems that reverberated across the planet. What's more, the gun was fired on a period of unprecedented musical innovation and creativity, the likes of which have never been repeated.
Freak Out describes how the USA, the UK and the relative backwater of Australia were all dragged into global culture by the unstoppable momentum of popular music. Rock music in particular transcended borders, uniting young people across the planet with their own bespoke language.
For a brief time, millions of young people actually believed they could successfully reinvent society. Liberation for pacifists, women, people of colour, homosexuals, students and the oppressed seemed to be just a short revolution away.
There was no room for complacency or apathy in the face of the Cold War, the Vietnam War, and the corresponding upsurge of an 'alternative' or 'underground' culture in which music played an integral role.
Release

Nov-2021
ISBN

9781922464521
RRP (AUD)

$34.95
Pages

416
Format

Paperback & ebook
Category

Music, History
Tony Wellington
Tony Wellington has worked in a broad range of creative arts fields and even dabbled in politics as the Mayor of Noosa Shire.
Monash University Publishing
Monash University Publishing publishes books of the highest standard across the humanities and social sciences, with special interest in books that specialise in Asian studies, politics, education, communications, Australian history, Indigenous issues, culture and society.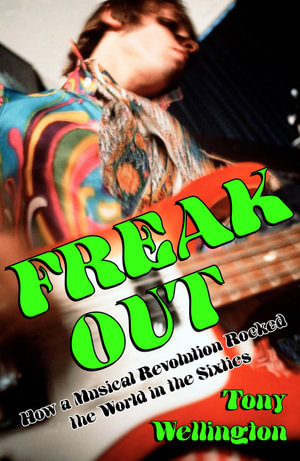 Rights
Contact

Julia Carlomagno, Publisher
Email
Website