From Above the Clouds
Kezia Brett, Martina Heiduczek
'Can I have a story?' Grace asks.
Grace's parents tell the magical tale of how as a sick baby, her determined spirit and the love of family and friends, helped guide her into the world. With their support, Grace recovers and returns home, full of life.
Beautifully illustrated, this lyrical and uplifting story traverses the globe and celebrates the coming together of a family and community when a baby is born.
It explores the love, hopes, and dreams that accompany new life.
Martina Heiduczek's illustrations are ethereal and joyous, giving a peacefulness to the story which deals with some difficult times in Grace's journey.
A stellar debut picture book by Kezia Brett.
This is a beautiful, comforting book that demonstrates how valuable every child is.
ISBN

9780646976020
RRP (AUD)

$24.95
Pages

32
Format

Hardback
Category

Children's Books: Picture books
Kezia Brett
Kezia Brett writes for big people and small people. Her work can be seen on film, TV, online and books. 'From Above the Clouds' is Kezia's debut children's book.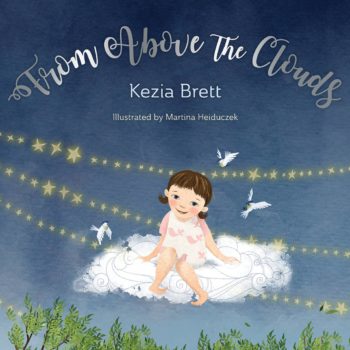 Rights
Rights sold

Complex Chinese language worldwide (excl. Mainland China)
Contact
Email
Website