Karu: Growing up Gurindji
Violet Wadrill
In Karu, Gurindji women describe their child-rearing practices. Some have a spiritual basis, while others are highly practical in nature, such as the use of bush medicines. Many Gurindji ways of raising children contrast with non-Indigenous practices because they are deeply embedded in an understanding of country and family connections. This book celebrates children growing up Gurindji and honours those Gurindji mothers, grandmothers, assistant teachers and health workers who dedicate their lives to making that possible.
Karu: Growing Up Gurindji shares the cultural knowledge, language and experiences of some extraordinary women and their roles as matriarchs, aunties, sisters and health workers. Karu gives new meaning to the phrase 'bedtime stories' with Dreamtime stories about Gurindji country, its creatures, and the morals followed to live a rich life.
Beautifully written by First Nations women on Gurindji country where the fight for equal wages began. This book passionately expresses the stories told by strong women about their history and culture. A must read!
I am so impressed by this book I keep buying it for other people. It is written bi-lingually in Gurindji and English. The stories are simple but expressive. The book has lots of wonderful photos.
Release

May-2019
ISBN

9781925581836
RRP (AUD)

$29.95
Pages

96
Format

Paperback & ebook
Category

Indigenous, bilingual
Violet Wadrill
Violet Waddrill, Biddy Wavehill Yamawurr and Topsy Dodd Ngarnjal are senior Gurindji cultural custodians and artists, committed to the documentation of their language and culture. Felicity Meakins is a linguist and an Associate Professor at the University of Queensland.
Spinifex Press
Spinifex Press turns 30 in 2021. We publish controversial and innovative feminist books with an optimistic edge.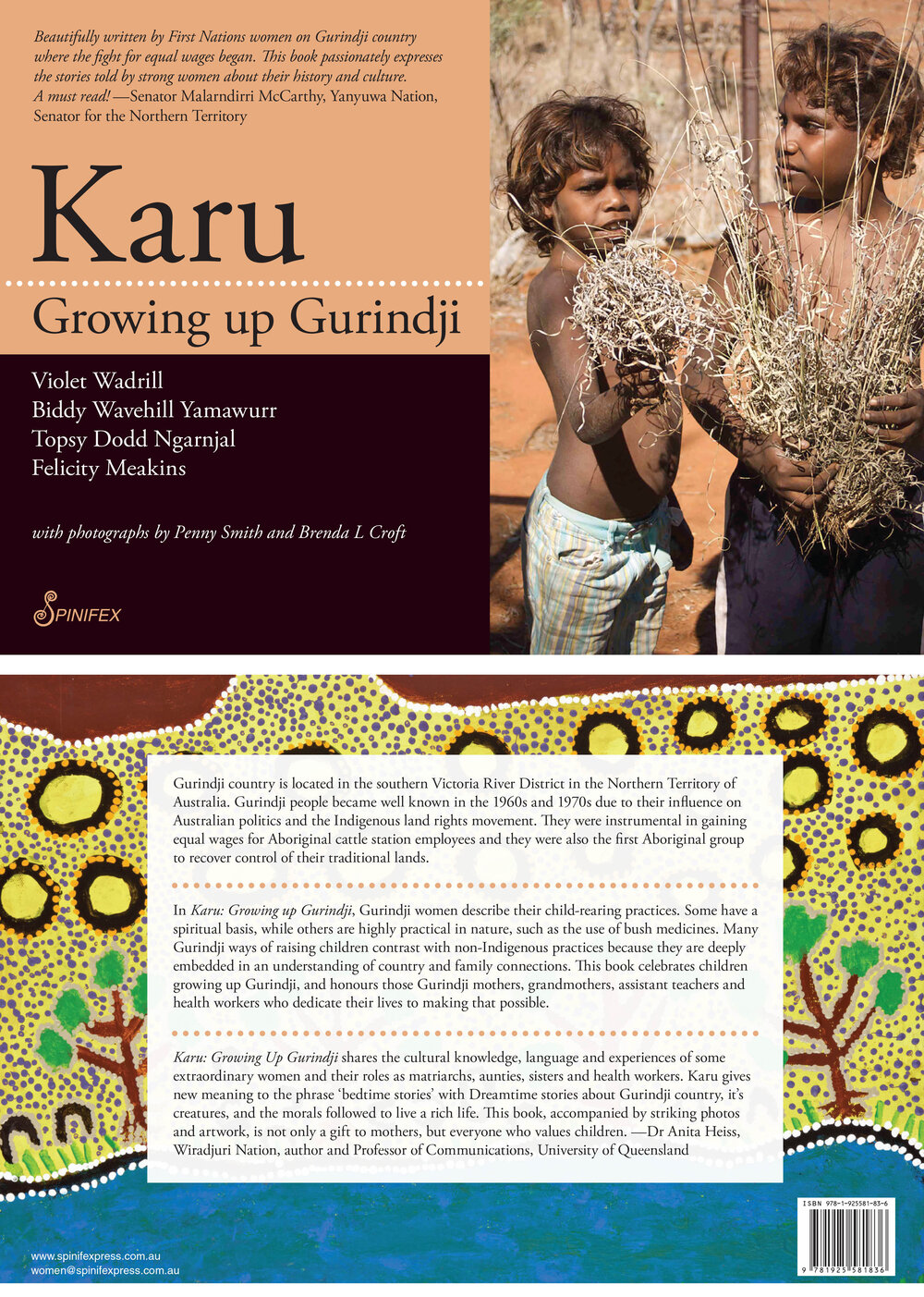 Rights
Contact
Email
Website