SuperFastDiet: Part-time dieting for long-term weight loss
Victoria Black, Gen Davidson
After years of yo-yo dieting, Australian women Victoria Black and Gen Davidson lost 40 kg between them using the intermittent fasting methods described in SuperFastDiet.
What's more, they have kept the weight off.
Determined to help others do the same, Victoria and Gen created the world's first and now largest online fasting program. In the process, they've built a supportive and fun community of SuperFast enthusiasts (some of whom have lost more than 30 kg).
Now, Victoria and Gen bring their dieting genius to life in their SuperFastDiet book. Here you will find:
– all the information you need to select the SuperFast program that best suits you: 2 day (5:2), 3 day (4:3) or part-day (16:8)
– the science behind the diet, showing how fasting can help you avoid diabetes, heart disease and a range of lifestyle diseases
– 80 delicious recipes
– weekly meal plans
– real-life stories of dramatic weight loss from the SuperFast community.
Fully photographed, and bursting with clear advice and encouragement, SuperFastDiet is your passport to long-term weight loss and good health.
I've been helping patients with weight loss for over 30 years and I've never been so excited about a program before.
Helpful and easy-to-understand nutritional advice, tips for making the programs fit around your family, and 80 recipes that you'll actually want to cook.
Release

Dec-2019
ISBN

9781760786533
RRP (AUD)

$34.99
Pages

256
Format

Paperback
Category

Weight loss and dieting
Victoria Black & Gen Davidson
SuperFastDiet co-founder Victoria Black is CEO and editor-in-chief of Wildfire Publishing International, publishers of Australia's leading wedding media including modernwedding.com.au. She won Optus Business Woman of the Year in 2016. Victoria has lost 10 kg on SuperFastDiet.
SuperFastDiet co-founder Gen Davidson is the former owner of a chain of successful fitness and weight-loss centres and has consulted to more than 100 additional centres nationally. Gen has lost over 30 kg on SuperFastDiet.
Pan Macmillan Australia
At Pan Macmillan, we are proud to publish many of Australia and the world's most inspired, acclaimed and bestselling authors. We are passionate about bringing compelling Australian stories to readers. Our books are available in print, ebook and audiobook.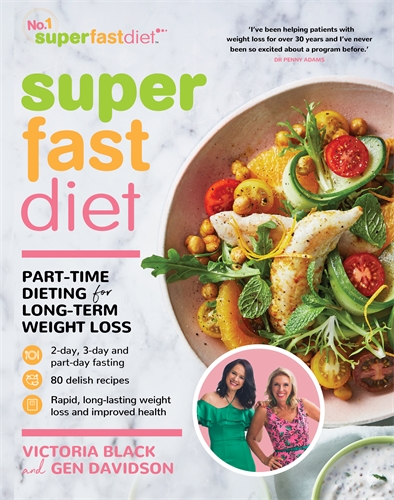 Rights
Contact
Email
Website