The Healthy Skin Diet
Karen Fischer, BHSc, Dip. Nut.
Winner of the 2008 Australian Food Media Awards for Best Health, Nutrition or Special Diet book. Ex-model and TV presenter Karen Fischer understands the havoc your day-to-day life and environment can inflict on your skin. The Healthy Skin Diet offers an easy-to-follow, comprehensive program featuring planned daily menus; a three-day detox plan; delicious, simple, healthy, alkalising recipes; and chapters dedicated to the treatment of specific skin disorders from cellulite to acne.
The Healthy Skin Diet is designed to supply your body with the ability to make gorgeous skin – working from the inside out! Beautiful skin is not something exclusively reserved for the genetically blessed. You too can have great healthy, clear and blemish-free skin.
"A hands-on, easy-to-read informative book. Suitable for all ages, from babies to grandparents, The Healthy Skin Diet not only shows ways to improve skin condition, but is also applicable to anyone interested in living a more healthy lifestyle."
Pages

392
Format

Paperback
Category

Healthy Skin
Exisle Publishing
Exisle Publishing is a global independent publisher of non-fiction books, founded by Gareth St John Thomas in 1991. We produce the kind of books that the very big publishers do not!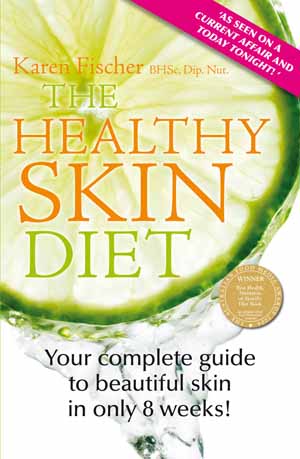 Rights
Distributed

in USA, Canada, UK, Australia, New Zealand
Rights Sold:

Poland, Portugal, Chinese Traditional, Latvia, Russia, Italy, Bulgaria, Germany
Contact
Email
Website