The Road to Nursing with VitalSource
Nick Arnott, Penny Paliadelis, Mary Cruickshank
Commencing a nursing qualification can be an exciting and daunting prospect. The Road to Nursing empowers nursing students to become effective practitioners by providing an in-depth foundational knowledge of the key concepts and skills that will underpin their entire nursing journey. Written by an expert team of academics and practising nurses, this text emphasises the importance of meaning-making, supporting students to critically engage with key knowledge that informs their ongoing learning, development and professional identity. Each chapter supports learning through pedagogical features including case studies, nursing perspectives, reflections, key terms, review questions and research topics. The additional activities accessed through the VitalSource eBook reaffirm comprehension and encourage critical thinking. The Road to Nursing is written in an accessible narrative style, providing a friendly guiding voice that will support students from the classroom into practice.
Empowers undergraduate nurses by providing the foundational knowledge and skills that will underpin their entire nursing journey
Each chapter is written in an accessible style by leading Australian nursing academics and practising nurses
Includes access to the complementary VitalSource interactive eBook, through which students can find valuable self-assessment tools such as multiple-choice and short-answer questions with guided responses, and links to relevant website and video content
Release

Oct-2018
ISBN

9781108435284
RRP (AUD)

$79.95
Pages

328
Format

Paperback & ebook
Category

Medicine
Nick Arnott, Penny Paliadelis, Mary CrCruickshank
Nick Arnott is a lecturer in nursing at the University of Tasmania. Penny Paliadelis has recently retired from the position of Executive Dean, Faculty of Health at Federation University. Mary Cruickshank is Head of the School of Nursing, Midwifery and Healthcare at the Federation University.
Cambridge University Press
Our vision is a world of learning and research inspired by Cambridge, where we enable people to achieve success by providing the best learning and research solutions and where we use our profit for purpose, contributing to society by furthering the mission of our University.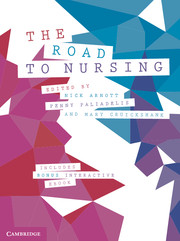 Rights
Contact
Email
Website