The Things We See In The Light
Amal Awad
NEW BEGINNINGS, OLD FRIENDS, LOVE AND CHOCOLATE
'In the cafe, I watch as a woman takes a photo of her plate – an impressive, glossy lime-coloured dessert with shards of chocolate perched on top. I want to feel that ease and confidence, too. Like this is my city again, and I know my way around it.'
Eight years ago, Sahar pursued her happily ever after when she married Khaled and followed him to Jordan, leaving behind her family, her friends and a thriving cake business. But married life didn't go as planned and, haunted by secrets, Sahar has returned home to Sydney without telling her husband.
With the help of her childhood friends, Sahar hits the reset button on her life. She takes a job at a local patisserie run by Maggie, a strong but kind manager who guides Sahar in sweets and life.
But as she tentatively gets to know her colleagues, Sahar faces a whole new set of challenges. There's Kat and Inez, who are determined that Sahar try new experiences. Then there's Luke, a talented chocolatier and a bundle of contradictions.
As Sahar embraces the new, she reinvents herself, trying things once forbidden to her. But just when she is finally starting to find her feet, her past finds its way back to her.
Pacey, tightly plotted, and with an unexpected development in the final act, it's all too easy to fall under the charms of The Things We See in the Light. Like last year's brilliant Such a Fun Age, it gives us an immensely relatable protagonist who isn't always sure of herself, but is no less courageous for her vulnerability. Unabashedly warm, it still manages to trace Sahar's relationship with her faith, trauma, and love, with unflinching honesty.
Awad brings her trademark intelligence and insight to this big-hearted story of a woman building a new life - a cross-cultural delight.
Full of flavour, Amal Awad's THE THINGS WE SEE IN THE LIGHT is a warm, emotive and uplifting story. It's about the power of friendship, facing fears, and being brave enough to find your true self. The perfect book to immerse yourself in, but be sure to keep both tissues and chocolates handy!
Praise:

"Genre is great for challenging misconceptions, preconceptions and any other kind of false conception one may encounter. Anita Hess did it with her Dreaming series for Indigenous women and Amal Awad has done it for Muslim women in Australia." Mehal Krayem
By the same author:

Fridays With My Folks; In My Past Life I was Cleopatra; Beyond Veiled Cliches
Release

Jul-2021
ISBN

9780648676966
RRP (AUD)

$29.99
Pages

356
Format

Paperback & ebook
Category

Commercial fiction
Amal Awad
Amal Awad is a journalist, screenwriter, author and performer. She has contributed to numerous publications, is a public speaker and presents workshops on storytelling and creativity.
Pantera Press
Pantera Press is a young and enthusiastic publisher of titles that spark imagination, conversation and change. We publish fiction, non-fiction, illustrated non-fiction and a growing list of children's titles.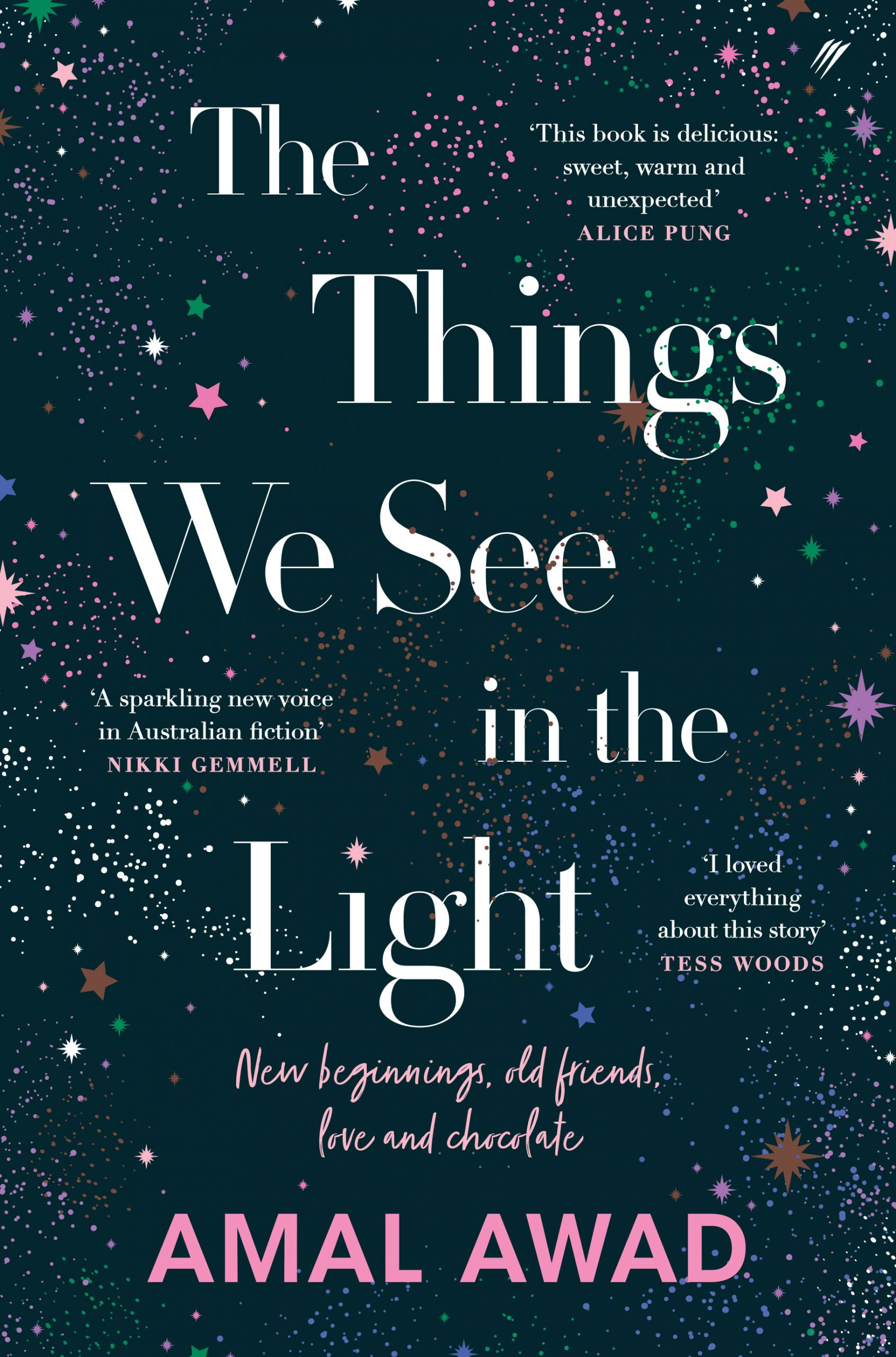 Rights
Rights Sold:
Contact
Email
Website