You're Different Jemima
Jedidah Morley, Karen Erasmus
Jemima likes to sing loud, dance her own moves and use her imagination, but her teacher and the other kids think she's too 'different'. When Mrs Chuckles takes over the class, Jemima discovers that being different is WONDERFUL!
A book to make children feel special about what makes them 'different'.
This is a story about valuing the creative, free spirit and encouraging children to shine. It is also a cautionary tale about how not to teach. Children 4-8 will recognise Jemima's desire to please in spite of herself and the freedom that comes from being accepted.'
ISBN

9780994501028
RRP (AUD)

$17.00
Format

Paperback
Category

Individuality, Acceptance
Jedidah Morley
Jedidah writes picture books that encourage children to be themselves and embrace their difference and creativity. They also encourage positive relationships between adults and children.
Empowering Resources
We publish beautiful children's books that nurture, educate and empower children. Our Australian authors and illustrators have collaborated to produce the highest quality stories that positively impact children around Australia and around the world.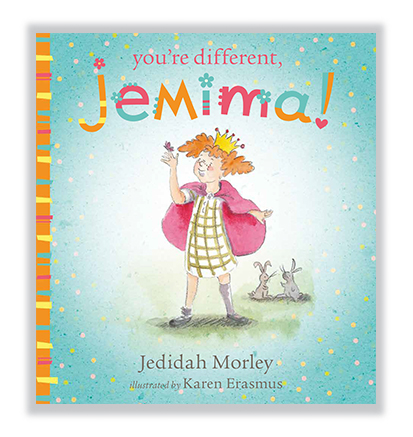 Rights
Contact
Email
Website