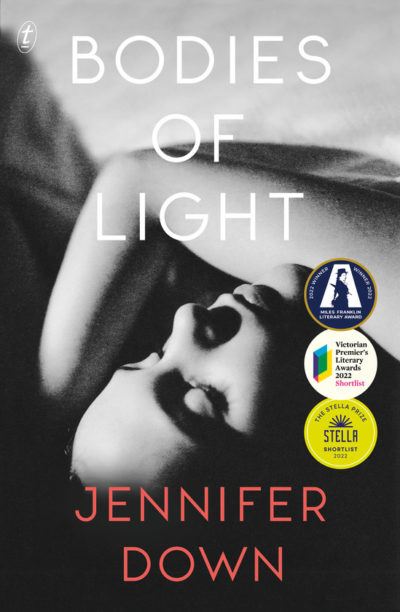 Down wins Miles Franklin for 'Bodies of Light'
12 October, 2022
Melbourne writer Jennifer Down took out Australia's most prestigious literary prize, the $60,000 Miles Franklin Literary Award, for her second novel Bodies of Light (Text). The winner was chosen from a shortlist announced in June, in a headline-grabbing year for the Miles Franklin that featured a plagiarism scandal as well as the shortlisting of a self-published book for the first time in the prize's history.
The winner of the Barbara Jefferis Award was recently announced as S L Lim for Revenge: Murder in three parts (Transit Lounge); the $50,000 award is presented every two years for the best Australian novel that 'depicts women and girls in a positive way or otherwise empowers the status of women and girls in society'.
The respected, long-running ALS Gold Medal went to poetry collection Human Looking by Andy Jackson (Giramondo). Administered by the Association for the Study of Australian Literature, the medal was presented alongside the Mary Gilmore Award for the best first book of poetry (Jelena Dinić, In the Room with the She Wolf, Wakefield) and the Magarey Medal for biography (Bernadette Brennan, Leaping into Waterfalls, A&U). Brennan's biography of the late Australian writer Gillian Mears also won the National Biography Award as well as the nonfiction category of the Age Book of the Year. The fiction category was awarded to Miles Allinson for his second novel In Moonland (Scribe).
In May the Sydney Morning Herald named three debut authors as the Best Young Australian Novelists for 2022: Ella Baxter for New Animal (A&U), Michael Burrows for Where the Line Breaks (Fremantle Press) and Diana Reid for Love & Virtue (Ultimo). Reid also swept this year's trade awards, taking out overall book of the year and literary fiction book of the year at the Australian Book Industry Awards, as well as the adult fiction category at the Australian Booksellers Association's awards night. (more…)
Originally published by Books and Publishing (Read More)