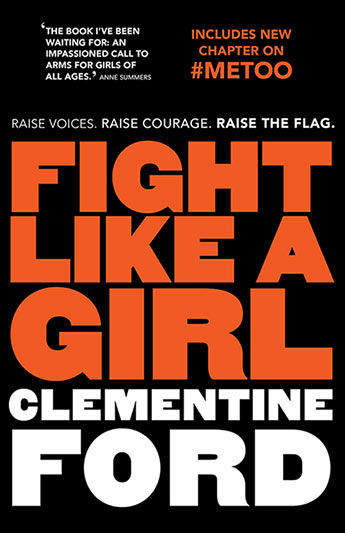 'Fight Like a Girl' to be adapted for TV
21 June, 2021
Aquarius Films has acquired all development and production rights to Clementine Ford's nonfiction book Fight Like a Girl (A&U), in a deal negotiated by Jacinta Dimase at Jacinta Dimase Management.
The production company will develop the memoir for television as a comedy drama series of six 30-minute episodes, to be created by Ford and Lou Sanz and written by Ford, Sanz, Nayuka Gorrie and Nina Oyama. The series will be produced by Angie Fielder and Polly Staniford for Aquarius Films.
A statement announcing the adaptation said: 'When future feminist icon 15-year-old Bel Jones has a political awakening on the suburban grounds of her 1990s high school, she attempts to rally those around her to the cause. But she soon discovers that her message will be met with opposition every step of the way, and must choose between fitting in or fighting for a future world she wants to live in.'
'As an insecure teen growing up in the 90s, television was such an escape for me,' said Ford. 'To be able to develop a narrative fiction version of this time for today's viewers is an absolute dream come true.'
Producers Fielder and Staniford said they were 'incredibly inspired by Clem's book … and moved by her authentic and powerful voice'.
'Clem is an influencer and a social disrupter who openly speaks of taboo subjects in order to spark conversation and incite change. She is not afraid of controversy and through her writing is able to delve into important issues with satire and grace. We are very excited to partner with her on this compelling new project.'
Published in Australia by Allen & Unwin in September 2016, Fight Like a Girl has sold over 65,000 copies locally and been published in the US and UK by Oneworld Publications. It earned Ford the Matt Richell Award for New Writer of the Year at the 2017 Australian Book Industry Awards.
'Fight Like A Girl resonated with so many readers because, despite our differences, there are parts of being a girl in the world that are universal,' said Ford. 'We want to offer the same experience now to a broader audience, reminding everyone how far we've come—and how far we still have to go.'
Aquarius Films has also recently acquired screen adaptation rights to The Subjugate by Amanda Bridgeman (Watkins), co-produced with Anonymous Content, and The Geography of Friendship by Sally Piper (UQP), in a co-production with Rose Byrne's Dollhouse Picture.
Originally published by Books and Publishing (Read More)