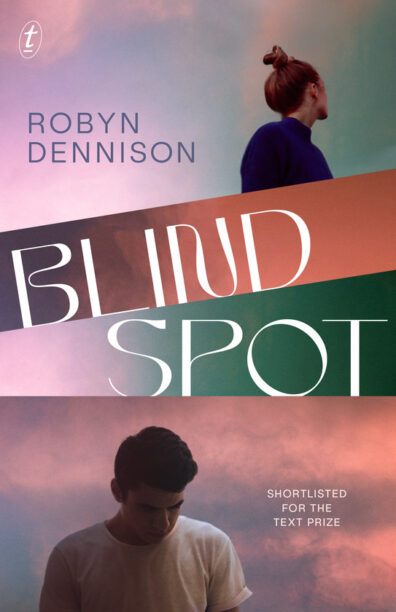 For the kids: Australian children's and YA on offer at LBF
5 April, 2023
Winner of the 2022 Text Prize, Let's Never Speak of This Again by Megan Williams (Text) is a 'big-hearted YA debut', which celebrates 'the depth and strength of friendship through all of life's ups and downs'. Another debut YA novel, also discovered through the Text Prize, is Robyn Dennison's Blind Spot, 'an immensely readable and unflinching look at teenage life', in which 'a heartening cast of characters remind us that no decision is black or white'.
Other books from Text include Allayne L Webster's Selfie, a 'captivating' novel that explores the complex relationships that teenagers have with social media; The Hotel Witch, a 'charming a spellbinding' middle-grade from beloved children's author Jessica Miller; and Holden Sheppard's YA novel The Brink, in which a group of teenagers find themselves confront life-changing tragedy head-on.
Also look out for Sheppard's Invisible Boys, Fremantle Press's bestselling LGBTQIA+ novel, which is being developed for television and has been embraced by adult readers as much as by YA readers—Fremantle is looking for publishers willing to consider it in either market. Look out for recent YA collections of original writing from under-represented and diverse voices: anthologies Meet Me at the Intersection and Unlimted Futures, as well as An Unexpected Party, curated by trans editor Seth Malacari and due for publication in Australia in November this year; while world English-language rights to graphic novel Stars in Their Eyes (Jessica Walton and Aśka) have sold to Scholastic imprint Graphix and Fremantle is seeking foreign-language partners for this title. Fremantle is also excited to present I Am the Mau and other stories by Chemutai Glasheen, an enticing collection of YA contemporary fiction that explores the duality of Kenyan life and how to find a way between two cultures. 
In picture books, Fremantle is offering James Foley's Stellarphant, the multi-award-winning White Ravens book of 2022, and new title Timeless by Kelly Canby, 'a stunning and thought-provoking picture book' that follows Littlelight, The Hole Story and Rodney.
Storytorch Press is offering several illustrated titles at the fair. Naturopolis is Deborah Frenkel and Ingrid Bartkowjak's lyrical celebration of urban flora and fauna. The book follows an ant to discover the scraps of wilderness hiding in plain sight, and is 'a wonderful acknowledgement of the unseen, and the world that awaits the viewer, eager to connect with nature'. Great and Small follows Eunice the tiny unicorn, who dreams of competing in the Great Unicorn Games. 'A celebration of universal design and our unique abilities, Great and Small celebrates what unifies us—our glorious diversity,' says the publisher. What Will You Make Today? (Maura Pierlot and Triandhika Anjani) is a nonfiction picture book inviting children to explore the many ways they can make a difference in the world.
From Exisle's children's imprint EK Books are five picture books: Anchored is Debra Tidball and Arielle Li's tale of love and connection told through the relationship of a tugboat and a cargo ship; Mama's Chickens (Michelle Worthington and Nicky Johnston) is a 'sensitive, beautifully illustrated book that used backyard chickens to give a closely observed child's-eye view of early onset dementia'; Harriet's Hungry Worms (Samantha Smith and Melissa Johns) is a 'funny, engaging eco story' that follows the adventures of compost worms as munch their way through a wide and wonderful weekly menu; When Grandma Burnt Her Bra (Samantha Tidy & Aśka) depicts the world as seen by a child whose own grandma, a 'loud and proud feminist', was part of the revolution that now benefits us all; and Nova's Missing Masterpiece (Brooke Graham and Robin Tatlow-Lord) uses a girl's bond with her dog to address the themes of anger, self-regulation, problem-solving, resilience and persistence.
Storytorch is also offering several children's middle-grade fiction titles, including Starberries and Kee (Cate Whittle), which is described as 'solar punk climate-fiction told with positivity and hope'. It follows Wren, a 'wild child' who has been brought up on the mountain by Old Man, and Hannah, who had always lived in the city. When their paths collide, a 'secret friendship brings a family full circle, linking the past to the present and the old with the new'. Also from Storytorch is Ocean Warriors: The Rise of Robo-Shark (Candice Lemon-Scott), which follows Kai, who's sent on summer camp to restore extinct sea creatures; and The Riddle of Tanglewood Manor, which follows brothers Sam and Harry as their parents set about renovating a 150-year-old house.
Emily Snape's Game On! Shrinkle and Game On! Glitched are among the four middle-grade fiction titles EK Books will be offering at the fair. Game on! Shrinkle follows gaming-obsessed Max and his younger brother Liam, who are forced to work together to survive epic adventures on a miniscule scale. Meanwhile in Glitched, Max and Liam take a trip through time: can they survive the dangers and solve the riddles without killing each other? Other middle-grade fiction titles from EK Books are Ruby and the Pen and Xander and the Pen (David Lawrence and Cherie Dignam), in which the title characters buy a pen with a magical power—whatever they draw, happens.
Originally published by Books and Publishing (Read More)