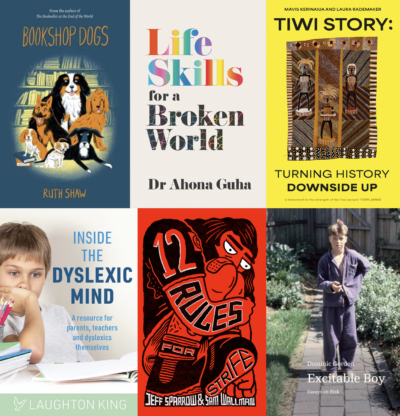 From literary memoir to survival in a broken world: Australian nonfiction at Frankfurt
2 October, 2023
From literary memoir to survival in a broken world, from bookshop dogs to Sam Kerr's World Cup journey, these are the nonfiction titles publishers are most looking forward to pitching at Frankfurt 2023.
Memoir and biography
On offer this year are a multitude of life stories, from genre-bending literary experimentation to a work contemplating the impact of human–canine friendships.
Several biographies shine new light on well-known figures. As Rupert Murdoch hands over the reins to son Lachlan, the biography Young Rupert (Walter Marsh, Scribe, August 2023) explores the early life of the 'polarising patriarch' of the Murdoch media empire, piecing together 'a paper trail of succession, sedition, and power', drawing upon previously unpublished archival materials.
Nikos Papastergiadis 'explores his close friendship with the late English art critic, novelist, painter and poet John Berger' in the memoir John Berger: A migrant's eye (Giramondo, 2024), a work that 'acts as both a portrait and a critical study of the work of his former mentor', and is 'both a biography and an autobiography'.
Cast Mates: Australian actors in Hollywood and at home (Sam Twyford-Moore, NewSouth, July 2023) is a 'group biography of Australian acting giants across the ages'. Focusing on the lives and careers of Errol Flynn, Peter Finch, David Gulpilil and Nicole Kidman, this book examines the 'crossovers between Hollywood and Australian cinema culture', beginning with the world's first feature film, The Story of the Kelly Gang.
From Hachette comes two memoirs. Datsun Angel (Anna Broinowski, March 2024) is 'a turbo-charged adventure story that delves into the dark heart of 1980s Australia' through the eyes of the author, who was 'kidnapped by truckies' while hitchhiking from Sydney to Darwin. In Bad Faith (Dassi Erlich, January 2024) is a memoir from a sexual abuse survivor who 'grew up in a closed, ultra-Orthodox sect and endured a harsh home life that made her the perfect target for a predatory teacher'—and covers a 15-year journey to justice.
Simon & Schuster Australia (S&S) will also bring several life stories to this year's fair, including the forthcoming Run for Your Life (Sue Williams), which is pitched as 'the remarkable true story of a family with no place to hide' who are leaking the secrets of the Kremlin; Against the Water (Owen Wright, August 2023), which is the story of 'how one of Australia's finest surfers overcame brain injury and despair to claim Olympic glory'; and Sam Kerr's My Journey to the World Cup (revised edition), covering the Matildas captain's journey 'from making the switch to soccer to becoming one of the best female strikers in the world'.
Allen & Unwin (A&U) offers two forthcoming stories with unique perspectives. In a follow-up to The Bookseller at the End of the World, Ruth Shaw has penned The Bookshop Dogs (October 2023), telling the tales of the many and varied canine visitors to Shaw's bookstores in Manapōuri in the far south of Aotearoa New Zealand, interwoven with stories of Hunza, the 'very special' dog who accompanied the author when she was a youth worker. The Spy Who Fell to Earth (Phyllis Latour Doyle, June 2024) tells of Second World War spy Pippa Latour Doyle, who disguised herself as a French teenager and 'cycled through Nazi-occupied Normandy collecting and transmitting crucial information to the British Intelligence Service', only revealing her story to her family many years later.
Fans of literary memoir will also find plenty on offer. Among them, in Peripathetic: Notes on (un)belonging (NewSouth, May 2024), Cher Tan's debut collection of essays 'bend and break boundaries to resist easy categorisation' in 'an exploration of identity across global and digital territories', spanning wide-ranging genres and subjects 'while considering the ever-evolving facets of identity, self, and culture in a hyper-real world'. Monument (Giramondo, February 2024) is the fourth book from poet and critic Bonny Cassidy, whose poetry collection Chatelaine (also Giramondo) was shortlisted for the 2018 Prime Minister's Literary Awards and Queensland Literary Awards. Monument blends poetry, micro-history, memoir, travel writing and 'sometimes counterfactual speculation' to trace 'the manifestations of colonialism across the generations of an ordinary, white Australian family', contemplating 'how non-Indigenous Australians might absorb First Nations truth-telling; and what this has to do with acts of speech, writing and storytelling'. Black Inc. is pitching Excitable Boy: Essays on risk (Upswell, July 2024) from Dominic Gordon, with a foreword by Christos Tsiolkas. In this debut essay collection, Gordon takes the reader on a 'wild ride through a disaffected youth', where 'train tunnels become nesting sites, carpark stairwells are spots to refuel on methamphetamine and hide from predators'. Also from Upswell (represented by Black Inc.) is Abbas El-Zein's second memoir Bullet, Paper, Rock: A memoir of words and wars (June 2024), which is 'a story of survival, and a meditation on desire and loss, language and violence', 'at once a requiem for a Levantine past gone sour—from the innocent 1970s, through September 11 and its aftermath, to the cataclysms of the Arab Spring—and a tribute to women of his family'. El-Zein's previous memoir, Leave to Remain (UQP), won the Community Relations Commission Award at the 2010 New South Wales Premier's Literary Awards.
History, society and politics
Other Australian titles interrogate social, political, and cultural issues, with implications beyond the Australian context. In Culinary Inauthentic (Giramondo, 2024), award-winning author and playwright Noëlle Janaczewska explores authenticity and inauthenticity in the culinary realm, blending genres and styles to explore 'the ways we layer meaning onto cooking and eating practices, the politicisation of culinary space, the Esperanto-like vocabulary of the table, seeking out the culinary in-between, dishes lost in translation, once fashionable ingredients fallen out of favour'. On a completely different note, writer, essayist and social philosopher Anne Manne has written 'a searing exposé of institutional child abuse, and the remarkable story of the survivors who would not be silenced,' centring on the story of abuse survivor Steve Smith, as well as extensive interviews, in Crimes of the Cross: The Anglican paedophile network of Newcastle—and the man who fought for justice (Black Inc., October 2023). Black Inc. will also highlight The Economy of Algorithms: Rise of the Digital Minions (Marek Kowalkiewicz, La Trobe University Press, March 2024), which argues that society has moved into a 'new economy of algorithms' that is reshaping our lives. From Pantera comes the forthcoming Human? A lie that's been killing us since 1788 (Ziggy Ramo), described by the publisher as 'an attempt to bridge a nation-wide knowledge gap that threatens to strip away the humanity of colonisers and colonised alike'. 'A political book for the TikTok age', 12 Rules for Strife (Jeff Sparrow & Sam Wallman, Scribe, May 2024) is an original 'handbook for change' in comic-book format, exploring 12 'powerful ideas distilled from the history of struggle for better lives, better working conditions, and a better world'. Meanwhile, Spinifex will be pitching Greek, Actually (Penny Zagarelou-Mackieson, October 2023), the story of the author's quest 'to find her Greek relatives and be officially de-adopted', drawing on her personal experience as well as her work in the adoption field.
Four history titles are also highlighted this year. Tiwi Story: Turning history downside up (Mavis Kerinaiua & Laura Rademaker, NewSouth, September 2023) 'showcases the dramatic and complex history of the Tiwi Islands as told by Tiwi people', including their victory over the British in 1824. TikTok personality Esmé Louise James's Kinky History: The stories of our intimate lives, past and present (Pantera, October 2023) is 'an irreverent dive into human sexual history—and how we can harness this history for a more liberated present and future'. In a new instalment to Black Inc.'s Shortest History series, Ross King's The Shortest History of Italy (March 2024) is 'a panoramic sweep across some 3000 years of politics, culture, history and larger-than-life, world-bestriding personalities such as Julius Caesar, St Francis of Assisi and Giuseppe Garibaldi'. Saving Lieutenant Kennedy: The heroic story of the Australian who helped rescue JFK (Brett Mason, NewSouth, November 2023) tells of the rescue of John F Kennedy and his surviving crew after their torpedo boat was rammed by a Japanese destroyer in the Solomon Islands during the Second World War, shining 'a spotlight on Australia and America's shared wartime experience' through the story of a five-day search for the crew.
Science and environment
Several books pitched by Australian publishers will appeal to fans of smaller creatures. Silk & Venom: The incredible lives of spiders (James O'Hanlon, October 2023, NewSouth) seeks to dispel fears surrounding spiders, introducing readers to the beauty of spiders' lives 'from underwater to the slopes of Mt Everest'. Honey Bee Pests and Diseases: A complete guide to prevention and management (Robert Owen, Jean-Pierre Y Scheerlinck & Mark Stevenson, Exisle, October 2023) 'provides up-to-date information on the management of honey bee diseases found globally, not just in the US, Europe, or Australia'.
Also among the science titles highlighted this year is The Knowledge Gene by Lynne Kelly (A&U, September 2024), which sheds light on why humans make art, the prehistory of music and story, and the cognitive strengths of neurodivergent people.
Business, health, and personal development
From risk-taking to comfort-seeking, authors bring diverse lived experience and professional expertise to share life advice with their readers. Life Skills for a Broken World by clinical and forensic psychologist Ahona Guha (Scribe, January 2024) is a 'revolutionary framework for living well in a broken world', combining 'techniques from a range of therapeutic modalities' for a values-focused guide to good psychological health, while addressing 'the existential dread and despair that are valid responses to this era'. In Good with Money (A&U), Emma Edwards 'explores money through the lens of human behaviour and unpacks why we feel the way we do about it', supporting readers to use this perspective to shift their relationship with money and budgeting. Social media personality Chantel Mila, known for her #mamamilastips series, has created 'a one-stop house cleaning bible', The Dream Clean (Pantera), 'promoting daily habit change and encompassing a philosophy of eco-friendly, budget-friendly cleaning as a form of self-care'. Pantera is also pitching the forthcoming Work Backwards: Reverse your thinking to change your life (Tim Duggan, April 2024), which interrogates the future of work. Nutritionist Sarah Di Lorenzo's latest title, The Gut Repair Plan (S&S, 2024), is a 'transformative guide to gut health'. Simon & Schuster will also be pitching The Art of Risk (Richard Harris, Scribner, July 2023)—from the diving doctor who 'played a crucial role in the Tham Luang cave rescue in northern Thailand'—which 'explores the stories of other people who regularly risk their lives and what we can learn from their expertise'.
Exisle is also excited to pitch several health and personal development titles. In The Clear Leader: How to lead well in a hyper-connected world (March 2024), authors James N Donald and Craig S Hassed combine business psychology and mindfulness to explore effective leadership. In The Mindful Freak-Out: A rescue manual for being at your best when life is at its worst (January 2024), clinical psychologist Eric Goodman presents evidence-based tools to face highly distressing moments with strength and clarity. In Mindful Relationships: Creating genuine connection with ourselves and others (August 2023), Margie Ulbrick and Richard Chambers present a guide to using mindfulness to manage conflict and enrich relationships. Finally, Laughton King's Inside the Dyslexic Mind: A resource for parents, teachers and dyslexics themselves (May 2023) draws on lived and professional experience to describe the importance of understanding that dyslexic students thrive in different conditions to those that suit non-dyslexic students.
Originally published by Books and Publishing (Read More)