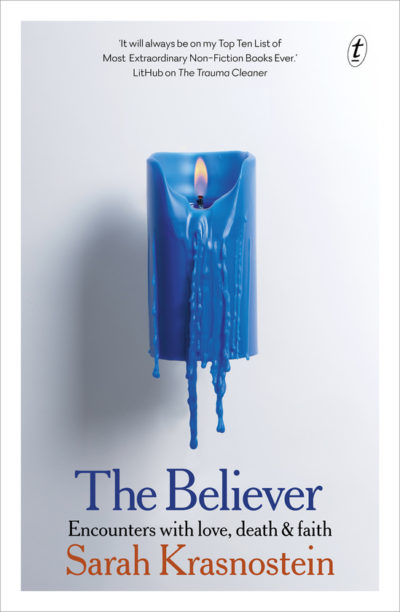 Gearing up to Frankfurt: Lead titles from Australian publishers & agents – by Think Australian
30 September, 2020
With the Frankfurt Book Fair now purely online, Australian publishers and literary agents are gearing up to pitch their titles via the fair's—and their own—digital channels. Here are some of their highlights:
Adult fiction and nonfiction
The rights team at Penguin Random House Australia (PRH)—Nerrilee Weir, Jordan Meek and Alice Richardson—is excited to be pitching three new nonfiction books that tap into current trends around resilience and sustainability. They are: Jodi Richardson's Anxious Mums (November), 'a guide to how mothers can turn their anxieties into strengths' (Richardson's Anxious Kids has been licensed in China, Russia, Taiwan, Romania and Germany); Anita Vandyke's A Zero Waste Family (December) (Vandyke's A Zero Waste Life has been licensed in North America, China, Czech Republic, Indonesia, Poland and Russia); and The Proof is in the Plants, about adopting a plant-based diet, by popular podcaster and nutritionist Simon Hill.
In fiction, the PRH team's highlights include two new works of historical fiction: bestselling author Fiona McIntosh's latest novel The Champagne War (November), set in WWI France; and debut author Tania Farrelly's The Eighth Wonder.
'Books that allow people to live better, less anxious and more fulfilling lives are among my top requests from editors and agents,' says Allen & Unwin rights manager Maggie Thompson. She will be pitching several books in this category, including Note to Self: The Secrets of Calm by Instagram influencer Rebekah Ballagh (November); and Gwendoline Smith's guides to anxiety, The Book of Knowing and The Book of Overthinking, which are about to be published in the US and UK.
Thompson is also excited about several new novels: a thriller from a former French secret service operative, The Frenchman by Jack Beaumont (early 2021); The Family Doctor by Debra Oswald (early 2021), an 'emotionally powerful' novel from the creator of the TV series Offspring; Infinite Splendours by Sofie Laguna and Bluebird by Malcolm Knox, which 'offer something for the upmarket fiction market that is doing so well overseas at the moment'; and Death in Daylesford (November), the next instalment in Kerry Greenwood's Phryne Fisher series, which has sold over one million copies around the world.
Text Publishing will be putting several new titles on the market for Frankfurt this year, says rights coordinator Lara Shprem. These include translation rights in a new work of nonfiction by Sarah Krasnostein, author of the bestselling The Trauma Cleaner. The Believer (early 2021) explores 'the lives of people who put their trust in something extraordinary, whatever the odds'. The publisher will also be pitching German author Dirk Kurbjuweit's new novel The Missing, the story of the notorious serial killer who terrorised Hanover during the Weimar Republic (Text holds world rights ex Germany). Kurbjuweit's previous novel Fear sold into more than a dozen territories.
'Big-picture nonfiction that speaks to a social or political moment continues to dominate the international market,' says Black Inc. rights and contracts coordinator Erin Sandiford, who is excited to sell rights to Recovery: How to build back better after a crisis by Andrew Wear, 'an optimistic investigation into how the Covid-19 crisis gives us a once-in-a-generation opportunity to build back better'. She will also be pitching a 'history-meets-true-crime book' called Return to Uluru (Mark McKenna, early 2021), about the shooting of an Aboriginal man by a white police officer, which 'speaks directly to the Black Lives Matter movement, truth-telling and reconciliation'.
In fiction, Sandiford says she has 'two French literary gems' that she is looking forward to pitching: The Rome Zoo by Pascal Janovjak and A World Without a Shore by Hélène Gaudy, both translated into English by award-winning Australian translator Stephanie Smee.
Scribe Publications rights manager Khadija Rose is particularly excited about two forthcoming debut novels: Repentance by Alison Gibbs and How We Are Translated by Jessica Gaitán Johannesson (both early 2021). 'These very different novels reckon with how individuals find their places in a changing world, and I found particularly poignant to our changing world of today,' says Rose. Her nonfiction pick is Alison Croggon's memoir Monsters (early 2021), 'a stunning exploration of how our attitudes are shaped by the persisting myths that underpin colonialism and patriarchy'.
UQP rights and contracts manager Kate McCormack says she's already begun pitching debut author Adam Thompson's 'engaging, thought-provoking and at times darkly funny' story collection Born Into This (early 2021), and has been receiving 'wonderful feedback'. The collection addresses universal themes around identity, racism and heritage destruction 'from a wholly original perspective'. In nonfiction, she has high hopes for Mind Your Brain by Dr Kailas Roberts (early 2021), 'a guide to understanding and living with dementia that will be an invaluable worldwide resource'.
Shane Jenek's memoir It's All an Act, which outlines 'his experience growing into a proud, passionate, politically active, gender-fluid, queer Australian icon, Courtney Act', is one of the highlights on Pantera Press' rights list. 'With a career spanning Australia, the US and the UK, this will have appeal in many markets,' says rights manager Katy McEwan. In fiction, she is looking forward to pitching Erina Reddan's literary debut The Serpent's Skin (2021)—'a gripping literary crime novel about male power and the secrets that can haunt a family'—and the commercial fiction title Spring Clean for the Peach Queen by Sasha Wasley, 'a delightful story of second chances, and coming to terms with the past set in a small Australian orchard town'.
Fremantle Press CEO and rights manager Jane Fraser says the publisher has 'an exciting list of books by debut writers to introduce'. They are: Sally Scott's cheese-inspired murder-mystery Fromage, set in Croatia and Western Australia's Margaret River; Zoe Deleuil's The Night Village, 'a chilling tale about a sleep-deprived new mum whose unsettling house guest won't leave'; Josephine Taylor's historical fiction Eye of a Rook, which tells the story of a modern-day writer investigating the history of hysteria, female sexuality and the treatment of the female body, and a woman in 1860s London who is forced to endure harmful treatments; and Emma Young's 'feel-good romantic debut' The Last Bookshop, the story of an independent bookshop owner's efforts to save her store.
While NewSouth Publishing is best known for its science and philosophy titles, executive publisher Elspeth Menzies says she 'can't wait to pitch Eda Gunaydin's compelling exploration of race, class, gender and the Turkish diaspora', the nonfiction collection Root and Branch (mid-2022).
Finally, Left Bank Literary rights manager Rebecca Slater is looking forward to pitching two big crime fiction releases: the third novel in Chris Hammer's bestselling 'Scrublands' series, Trust; and a new US-set standalone crime novel from Candice Fox, The Chase. Slater will also be pitching Minnie Darke's With Love with Wishart & Co, an 'uplifting read that is perfect for the current times' from the author of Star-crossed.
In nonfiction, the literary agency will be presenting proposals for The Mother Wound, Amani Haydar's 'moving memoir about domestic violence, family and feminism'; and Ross and Rachel Menzies' 'fascinating study of humanity's fear of death', Mortals.
Children's & YA
'With the world in turmoil for much of the year, it's fabulous to see rights still selling across territories, genres and age groups from picture books through to YA, back and frontlists,' says Allen & Unwin children's rights and international sales manager Carey Schroeter.
In picture books, Schroeter is looking forward to pitching Iceberg by Claire Saxby and Jess Racklyeft (early 2021, North American rights sold), which follows the life cycle of an iceberg and 'fills readers with hope, awe and renewal'. In middle-grade, Schroeter's list is full of highlights: a new book from Australian Children's Laureate Ursula Dubosarsky, Pierre's Not There (illus by Christopher Nielsen, November); Wendy Orr's historical novel Cuckoo's Flight (early 2021, North American and world audio rights sold); and Barry Jonsberg's Catch Me If I Fall (November), which is set in the near future and 'asks big questions about love in all its forms, and what it is to be human'.
In YA, Schroeter will be pitching 'the hugely captivating, brilliant, joie-de-vivre package that is Asphyxia's Future Girl' (October, Korean rights sold). 'It's a fully illustrated own-voice novel that deftly weaves Asphyxia's detailed insight into the Deaf culture and what it feels like to be d/Deaf, throughout a passionate coming-of-age story set in a near future on the brink of environmental catastrophe,' says Schroeter. Other YA highlights include the own-voice novel The Boy from the Mish by Gary Lonesborough (early 2021, North American and world audio rights sold), which draws on the author's experience growing up in a former Aboriginal mission, racial discrimination and his struggles with his sexuality; and internationally bestselling author Paul Jennings' YA/adult crossover memoir Untwisted: The Story of My Life (October, UK rights sold), which covers his writing, teaching and life.
With six pre-publication rights deals already signed for Terry Denton's Really Truly Amazing Guide to Everything (UK, Netherlands, Italy, Norway, Turkey and Korea), the children's nonfiction title is shaping up to be one of the standout titles on Penguin Random House Australia's rights list. In middle-grade, the team is excited about two own-voices novels: A Glasshouse of Stars by Shirley Marr, 'an exquisite magical realist novel', and Listen, Layla by Yassmin Abdel-Magied, the sequel to You Must Be Layla, which has been licensed in the UK (PRH UK). Among the picture book highlights are Sonya Hartnett and Gabriel Evans' Blue Flower, which explores individualism and self-esteem; and 'a much-needed resilience book from powerhouse duo Jane Godwin and Anna Walker', Don't Forget.
Maxine Beneba Clarke's introduction to the Black Lives Matter movement for children, When We Say Black Lives Matter (December), is one of the standout titles on Hachette Australia's children's rights list. 'I very much hope it will resonate with publishers internationally,' says head of contracts, rights and international sales Sarah Brooks. The publisher will also be pitching the 'hilariously funny fantasy adventure series by Denis Knight and Cristy Burne, featuring smart, brave protagonist Wednesday Weeks' (2021).
'We're incredibly excited about the new books we will be presenting during our virtual Frankfurt meetings,' says Hardie Grant Children's rights executive Madeleine Manifold. These include three illustrated titles: Nick Bland's Wolfred—'a mesmerizing new story about an endearing lift operator and writer, whose kindness and creativity triumphs in the strange building that he works in'; How to Be a Real Man by author, father and TikTok influencer Scott Stuart, which 'challenges the traditional stereotypes of masculinity'; and Philip Bunting's Me, Microbes & I—'a fantastic and timely guide to viruses, bacteria and the other weeny weirdies that share our world'. On the publisher's children's fiction list are Sally Rippin's first-reader series 'School of Monsters' and the junior fiction series 'The Underdogs' (Kate and Jol Temple and Shiloh Gordan) —'a fast-paced, laugh-out-loud detective series about an unlikely duo tracking down ne'er do well burglars'.
Scholastic Australia's picture book highlights include two new titles from Philip Bunting: Who Am I? (licensed to Taiwan and Portugal) and the forthcoming Give Me Some Space (December). Rights manager Claire Pretyman says she is also seeing interest build in the publisher's new 'Fart Boy' series by Adam Wallace and James Hart, with deals currently being negotiated for the Spanish, Greek, Turkish and UK rights.
'We have a number of new releases that we expect will stand out at Frankfurt,' says Affirm Press children's publisher Tash Besliev, who has high hopes for Emmaline Carroll Southwell's picture book Our Family Pledge—'especially in North America where her viral TikTok video has had enormous traction'; I Saw Pete and Pete Saw Me by Maggie Hutchings and Evie Barrow, with its universal themes of homelessness and compassion; and Jess Racklyeft's 'instant picture book classic' Welcome, Baby, To This World. Besliev also notes that Amelia Mellor's middle-grade novel The Grandest Bookshop in the World has already been requested by many publishers, 'which bodes well for some early foreign deals'.
UQP rights and contracts manager Kate McCormack is looking forward to pitching Kate Gordon's middle-grade novel The Heartsong of Wonder Quinn and its follow-up The Ballad of Melodie Rose as 'the beautiful lyrical gothic fairytale series it now is'. She also reports strong early interest in Rhiannon Wilde's YA LGBTQIA+ romance Henry Hamlet's Heart.
With strong international sales for Kelly Canby's picture book The Hole Story, Fremantle Press CEO and rights manager Jane Fraser is looking forward to pitching the author's new books Rodney and Littlelight (rights sold in South Korea, Turkey and Taiwan) at her Frankfurt meetings, as well as Shine by Danny Parker and Where do the Stars Go? by Katie Stewart.
Lucy Bell's children's nonfiction title You Can Change the World was Pantera's biggest rights success this year, '[tapping] perfectly into the interest in the environment and sustainable thinking', says rights manager Katy McEwan, so the publisher has high hopes for Bell's follow-up, You Can Live on the Bright Side (2021)—'a kids' guide to optimism, reinforcing activities and strategies to make kids more optimistic and confident about the future'.
Finally, NewSouth Publishing executive publisher Elspeth Menzies says she 'can't wait to pitch Fred Watson's grand tour of the universe for kids, Do Aliens Have Wings?'.