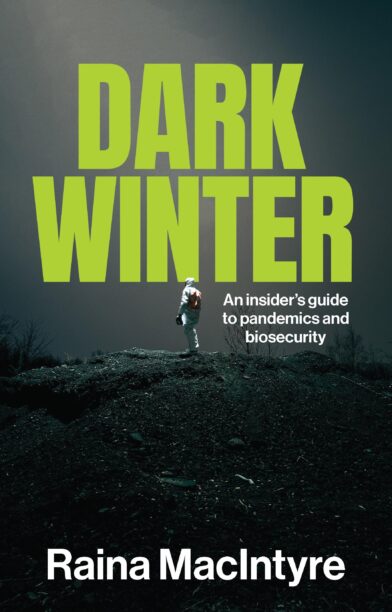 Get your facts here: Australian nonfiction on offer at LBF
6 April, 2023
Forensic psychologist Ahona Guha's groundbreaking book Reclaim: Understanding complex trauma and those who abuse (Scribe) will 'broaden and expand your thinking, whether you are a trauma survivor, someone who loves a survivor, or someone seeking to understand abuse'. In Reclaim, Guha shines light on the '"difficult" trauma victims that society often ignores, and calls for compassion and understanding in order to reclaim a safer, healthier society for everyone'.
Also from Scribe is Walter Marsh's forthcoming book Young Rupert: The making of the Murdoch Empire (August), which draws on unpublished archive material and new reportage, pieces together a paper trail of 'succession, sedition, and power'.
From NewSouth comes Dark Winter: An insider's guide to pandemics and biosecurity by epidemiologist and biosecurity expert Raina MacIntyre, which 'provides insights into historical biological attacks, lab accidents and epidemics, and the Covid-19 pandemic' and a glimpse into new frontiers of biosecurity. Personal essay collection Peripathetic: Notes on (un)belonging by Cher Tan (May 2024) is an exploration of identity across global and digital territories, that bends and breaks boundaries to resist easy categorisation, traversing subjects from technology to late capitalism, interrogating power, borders and capital 'while considering the ever-evolving facets of identity, self, and culture in a hyper-real world'.
Also from NewSouth, Why Are We Like This?: An evolutionary search for answers to life's big questions (Zoe Kean, October 2024), is an 'enjoyable and informative book for everyone, no matter their level of science literacy', from a new-generation science communicator and TikTok creator. The Eyes of a Spider (James O'Hanlon, October) takes readers from the author's Australian backyard to all corners of the globe (and even outer space!) to explore these fascinating creatures, while translation rights to the wonderfully titled Underground Lovers: Encounters with fungi (Alison Pouliot), which has already sold to Chicago University Press, are also available.
In nonfiction, Text has actor Sam Neill's 'unmissable memoir' Did I Ever Tell You This? , a 'revealing, heartwarming and often hilarious', recounting of the unpredictable turns of fortune that have defined his life and career. Also in memoir, the publisher is offering The Last Daughter by Brenda Matthews, a 'story of heartbreak and healing' that tells of the earth-shattering experience of being stolen from home, and Fat Girl Dancing, 'a staggeringly intimate story of fatness, beauty and self-knowledge' by Stella Prize-shortlisted author Kris Kneen, who examines their body through the lens of art and dance.
Text is also pitching Big Meg (August), 'a paleontological tour de force on the legendary Megalodon', by Tim Flannery and his daughter Emma Flannery, and an as yet untitled new book by Sand Talk author Tyson Yunkaporta, described as 'a formidably original yarn with Indigenous thought leaders from around the globe'.
Exisle is offering The Anxiety Coach (Michael Hawton), a guide for parents to helping their children' overcome anxiety, lessen their worrying and reduce their avoidance of challenging tasks by building 'the necessary brain architecture and perspective' and creating the emotional reserves and balance needed throughout life. Meanwhile, Mindfulness at Play (Stephen McKenzie & Angela North) is for young people and those who support them, providing a combination of psychological knowledge and practical guiding principles 'which will help parents help themselves, as well as their children, to achieve mindfulness'.
Also from Exisle, The Certainty Myth: How to be resilient when the world keeps changing (Toni Lindsay) promises we don't have to be the victims of our circumstances, while The Clear Leader: How to lead well in a hyper-connected world (Craig S Hassed) is 'the essential guide to leading well in today's hyper-connected, tech-focused, and increasingly distracted world'. Finally, The Flourishing Woman (Cate Howell), is a 'unique, holistic guide to fostering women's mental health and wellbeing' that emphasizes the influence of mental health and wellbeing on the prevention of ill-health, both physical and mental', and on living a satisfying and meaningful life.
Originally published by Books and Publishing (Read More)