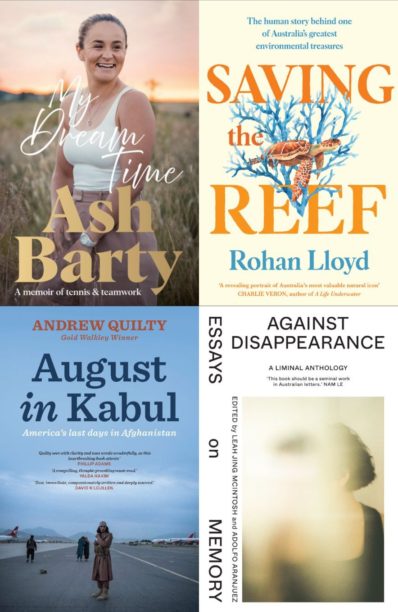 High-profile memoirs, political books, self-help guides: top nonfiction at Frankfurt
12 October, 2022
Memoir and biography 
Look out for Ash Barty's memoir My Dream Time (HarperCollins), which reflects on Barty's tennis career, her family, and 'finding the path to being the best I could be, not just as an athlete but as a person'.
Hachette is excited to pitch Ellidy Pullin's memoir Heartstrong, which debuted at number five in its release week, and the forthcoming Inconceivable by playwright Alexandra Collier (2023), which follows Collier's journey to be a solo mother by choice. Also from Hachette is The Girl in the Green Dress (Jeni Haynes & Georgia Blair-West), which shares how Haynes's multiple personality disorder helped her survive a life of abuse.
From Affirm Press, Gold Digger (Tyler Mahoney) is the memoir of a third-generation gold miner, a young Australian woman working in the male-dominated world of gold mining, and Pardon My French by Rachael Mogan McIntosh is a retelling of one family's year-long escapade in the south of France.
Sarah Malik's Desi Girl (UQP) is a collection of memoir-style essays about coming of age and finding your feet as a second-generation Australian Muslim, while from Text, Shannon Burns's Childhood is an 'arresting' memoir of a childhood spent bouncing between dysfunctional homes in impoverished suburbs, between families unwilling or unable to care for him. (more…)
Originally published by Books and Publishing (Read More)