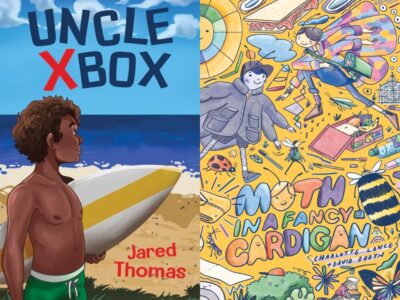 Junior and middle-grade fiction offerings
21 February, 2023
In junior fiction on offer at Bologna this year, Hardie Grant Children's Publishing has Monsties: The Lost Bunny (Zanni Louise & Kyla May) featuring Orla, Pearl, Mig, Boo and Oops—five best friend monsters who live in Scaryland, surrounded by scary monsters, but who are hopeless at being scary. They much prefer candy and cupcakes to spiders and centipedes. From UQP in junior fiction comes Leo & Ralph (Peter Carnavas), in which Leo finds that saying goodbye to an imaginary friend is harder than dreaming one into the world. How will Leo make a new start with an imaginary friend who refuses to give up on him? And from the creators of the Real Pigeons comes the 'joyous early graphic novel series about four twigs and their adventures', Hello Twigs (Andrew McDonald & Ben Wood, Hardie Grant Children's Publishing), which celebrates 'friendship and emotional expression, and explores wanting independence and needing the safety of home'.
In middle-grade, look out for the two new fantasy series: The 113th Assistant Librarian by Stuart Wilson (Melanie Ostell Literary/Penguin Random House Australia) is the first in a new series from the author of Prometheus High (Bold Type Publishing), and The Quest for the Galleon of Time (MidnightSun Publishing) is a debut from Tanya Hunter (Bold Type Publishing).
In standalone middle-grade, Anna Feinberg, author of Tashi, has a 'new heart-warming standalone for teens' called Picasso and the Greatest Show on Earth (A&U), in which a blossoming friendship between two new school students, who each have a secret loneliness, helps one another surface through grief, find their voice and reconnect with happiness. Also from A&U is Two Sparrowhawks in a Lonely Sky, the latest by Rebecca Lim, publishing locally this year (Annabel Barker Agency).
Also in middle-grade, Victor Kelleher returns with his second title in 15 years, The Cave (Christmas Press/Bold Type Publishing); Nim's Island author Wendy Orr offers Honey and the Valley of Horses 'an adventure with a touch of fantasy … in which a family escapes a diseased world by living in a magical valley, but later choose to return to save those they love'; and Anita Heiss brings us Koori Princess (fiction, 7–12) (Magabala Books) introducing Teish, a sassy, soon-to-be 8-year-old who believes more than anything, that she is a Disney princess. But will her siblings accept her being a feisty Koori Princess?
Also from Magabala comes Uncle Xbox (Jared Thomas), 'a coming-of-age story for young gamers [7–12], that offers gentle insights into growing up, family and finding your place in a digital world. Or not.'; and Bindi by Kirli Saunders, a verse novel for ages 7–12.
Illustrated juvenile fiction

This Camp is Doomed (Anna Zobel) is an illustrated middle-grade novel due from PRH this year, represented by Annabel Barker Agency, which also has a new illustrated middle-grade title from Judith Rossell.
Hairy Holes by Brenton E McKenna (Magabala Books) is a graphic novel for ages 8+  about 'two hairy hole people living ordinary lives until their world is lifted up and tossed on its rear when a lost tourist named Joplin stumbles upon them with promises of friendship and help to search for their parents'. Also in graphic novels for 8+ is Scarygirl: The Origin Story Film tie-in (Nathan Jurevicius, A&U), the basis for a new film releasing in the US in August this year, with the tie-in including new creative content.
From Berbay comes Moth in a Fancy Cardigan (Berbay) an illustrated 'funny, insightful coming-of-age story, told from the unlikely but utterly relatable perspectives of a moth and a butterfly'.
Finally, from UQP comes a middle-reader illustrated verse novel: The Dance of the Kraken, the Singing of the Sea is by award-winning author Zana Fraillon and is an 'utterly unique story about two brothers separated by life and death who refuse to let each other go'.
Originally published by Books and Publishing (Read More)