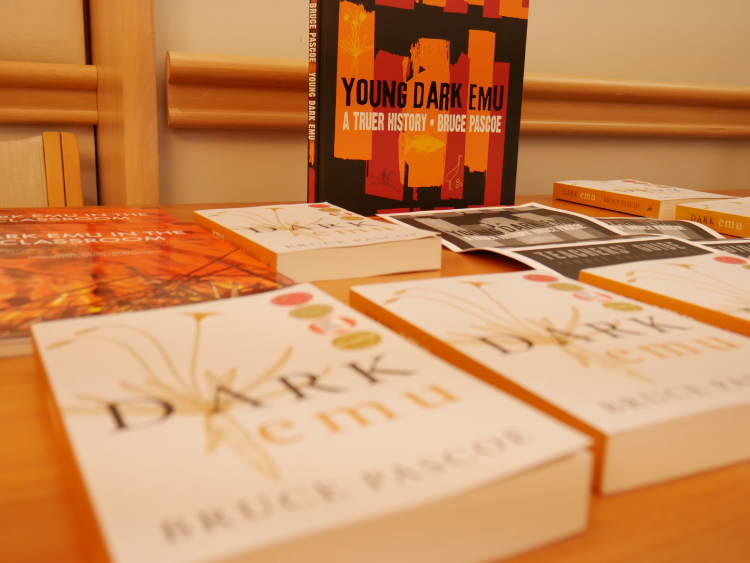 Magabala's Dark Emu talked about at first Parliamentary Book Club
12 February, 2020
Making history, MPs and Senators discussed Bruce Pascoe's book, Dark Emu at the first Australian Parliamentary Book Club last night.
During a nation-wide call out for nominations, Pascoe's award-winning non-fiction book was a clear favourite.
Bruce Pascoe and Anna Moulton, CEO of Dark Emu publisher Magabala Books, attended the evening and had a conversation with MPs and Senators about the book over pizza and drinks.
Pascoe said, "The reading and lively discussion of Dark Emu in the Parliamentary Book Club, will I hope, add momentum to the discussion on how all Australians can take better care for our country. This is our shared country we are talking about, she deserves our most considered thought."
Anna Moulton said, "Dark Emu has played an important role in helping Australians reconsider long-held beliefs about pre-Colonial Australia.  Of course it's not just about the past, and we're very hopeful that the discussions will have positive ripple effects. All Australians have so much to gain by embracing the achievements, culture and wisdom of First Australians."
NSW Senator Hollie Hughes said, "Dark Emu is a fascinating account of ancient practices that remain relevant – and the timing of the spotlight on Bruce's remarkable text is poignant."
Graham Perrett MP, Federal Member for Moreton said, "Bruce Pascoe's 'Dark Emu' made my deep love for Australia even more profound. Through the prism of more than 60,000 years of carefully laid out history of First Nations People I re-discovered the essence of a home that I thought I knew. Now I know it better and even more proudly."
The call out for recommendations and nominations for the next Parliamentary Book Club book begins Monday 17 February. The next book will be announced in March.
"We will be calling for books, that like Dark Emu, will help us ask deeper questions and have broader conversations about our great nation" said Perrett at the end ofthe book club.
Perrett shared one of the lessons he learned in reading Dark Emu, "that lesson is encapsulated in the title Dark Emu itself. It stands as a metaphor for looking at the same beautiful southern sky, but seeing from a different perspective. Whether we focus on the bright stars, the constellations named by the Ancient Greeks and Romans, or the deep dark of the universe in between in the shape of an emu. The idea is that we are open to seeing both. And that is part of the great gift of our first Australians."