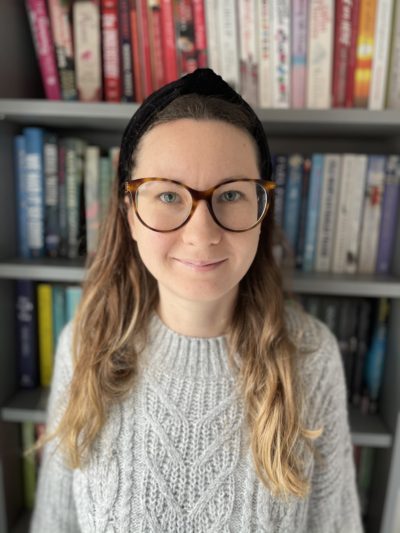 Meet Hachette Australia head of rights Sarah Brooks
17 November, 2020
As the pandemic keeps rights sellers from meeting face-to-face, Books+Publishing's Think Australian publication is shining a regular spotlight on the work of Australian rights agents. Today, we hear from Hachette Australia head of rights Sarah Brooks.
How did you get into rights management?
I accidentally fell into rights when I quit my job in recruitment (to which I was very badly suited!) and took one of the temp jobs we were advertising, which just happened to be in the rights department at Little, Brown UK. The team were wonderful and I couldn't believe my luck that I got to meet authors and take free books home! I knew instantly that I wanted to build a career in publishing. Luckily the temp role gave me the contacts I needed to be able to pursue that, and when a permanent position came up just under two years later at Hodder & Stoughton, I was delighted to get the job.
What do you love most about your job?
The buzz of getting a rights deal and sharing that news with an author never gets old. I love the knowledge that securing a deal, whether that's in the UK, US or in translation, means that an author's reach will be expanded on a global level, and I'm incredibly proud of the international success that our authors have achieved as a direct result of the work we do in rights.
What titles are you currently pitching?
We have been pitching across the breadth of the list during Frankfurt, but I've most recently been out on submission with a fantastically pacy fantasy adventure series for middle-grade readers and an evocative dual narrative historical set between the eve of the millennium and WWII.
What have been your biggest rights successes over the past year?
It's been a short year as I was on parental leave for the first half, but I must credit Emma Dorph and Anjelica Rush, and our co-agents, for securing an amazing number of deals across our children's list with Turkish publisher Is Kultur for both backlist and frontlist.
My highlight was securing a US and UK deal for Maxine Beneba Clarke's important and timely picture book When We Say Black Lives Matter this October. We also continue to secure multiple translation territories for Natasha Lester (The Paris Secret—12 languages to date) and we were delighted to announce a global deal for two new books with Grand Central (US) and Little, Brown (UK) earlier this year, following her previous rights success in these territories.
Which title or author on your list do you believe deserves greater recognition overseas?
I wouldn't want to pick out one title or author. I think we have some incredible authors and illustrators across the full Hachette and Lothian lists, many of whom deserve greater recognition overseas. Rights is a game of highs and lows, and I lose count of the number of authors whose work I champion and believe in, but where a deal just doesn't quite eventuate. It can be totally heartbreaking when the rejections start coming in. There's a huge amount of competition both in English language and translation markets, so you really need the editors you are submitting to to completely fall in love with the book you are sending. Thankfully we have a really strong Hachette export program so we can still achieve sales for our authors in overseas markets, where we are unable to achieve a publishing deal.
How has Covid-19 changed the ways you make contacts and sell rights?
It's been a brilliant opportunity to connect with some of the mid-level editors especially from the US, who don't make it to the big book fairs but who we are most often in touch with. I'll certainly be taking more video meetings with those who don't go to the fairs in future.
The online nature meant we had to think innovatively and creatively about how best to share our content. We created a video showreel to introduce a few of our upcoming books, which had a really great reception. We've also had to be very adaptable in terms of pitching colour books via screen-sharing—which unfortunately won't ever be the equivalent of being able to show a finished copy in person.
What are you currently reading?
Queenie (Candice Carty-Williams, Trapeze)—it's relatable, raw, funny, so readable and completely unputdownable.
Originally published by Books and Publishing (Read More)