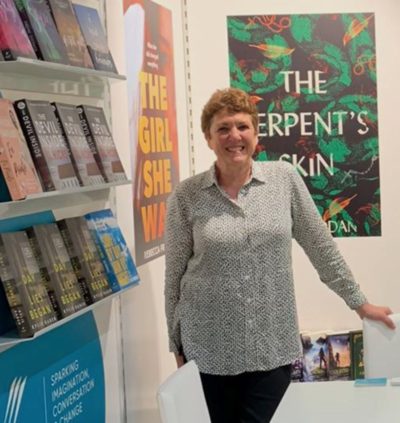 Meet Pantera Press rights manager Katy McEwen
19 January, 2021
As the pandemic keeps rights sellers from meeting face-to-face, Books+Publishing is shining a regular spotlight on the work of Australian rights agents. Today, we hear from Pantera Press rights manager Katy McEwen.
How did you get into rights management?
I first worked in publishing in London after finishing university—in various publicity and marketing roles both for a small independent and for Penguin Books. Having moved to Australia I eventually found my way back to publishing when I applied for a job at Allen & Unwin working in children's rights, assisting Angela Namoi. I also spent time working on the adult list there, and then applied for the job of rights manager at Pantera Press back in 2014. I was lucky enough to get the job and have been here ever since!
What do you love most about your job?
One of the most satisfying things about my job at Pantera has been the opportunity to build the rights role from scratch. In the early days, there were only a few local titles on the list, but I was lucky enough to be able to attend book fairs to help establish the connections with agents, scouts and publishers. This groundwork has put us in a great position to exploit the rights to the wide range of titles on our list today.
I really enjoy building those relationships both in Australia and internationally and the thrill of discovering the perfect connection with a publisher for a specific title, which will bring Australian titles to a wider audience. And in a pre-Covid world, travel and book fairs were of course a highlight of my job!
What titles are you currently pitching?
At the moment I am pitching Sasha Wasley's delightful commercial fiction title Spring Clean for the Peach Queen; school-strike leader Jean Hinchliffe's book of activism for teenagers, Lead the Way; and John Bell's timely book on leadership and lessons from Shakespeare, Some Achieve Greatness. I am also having early conversations about Shane Jenek (Courtney Act)'s biography, It's All an Act, which we will publish late this year.
Do you also acquire titles? If so, what are you currently looking for?
I don't acquire, but I'm always on the lookout, especially at fairs, for books and lists that might be a good fit for Pantera. I do sit in on acquisitions meetings and contribute a rights perspective to the decision about taking books on to our list.
What have been your biggest rights successes over the past year?
Our biggest success over the past year has been Lucy Bell's fabulous and beautifully designed children's book, You Can Change the World. It's an inspiration for kids to play their part in making a difference and has struck a nerve across the world. We have sold English language rights in both North America and the UK, as well as German, Spanish, Turkish and Afrikaans. There's also really strong interest in Lucy's companion book, You Can Live on the Bright Side, a guide to optimism for kids, which we will publish in November.
We continue to have success with selling audio rights to the majority of our titles, including an exciting hybrid audiobook/podcast deal for psychologist Mary Hoang's book Darkness is Golden. This book encourages an exploration of the darker aspects of life to gain a new sense of direction for the future, and comes with a playlist and various audio experiences.
Which title or author on your list do you believe deserves greater recognition overseas?
There are a number of fiction titles that have universal themes and that I'm sorry we have not yet found markets for overseas, most recently Erina Reddan's The Serpent's Skin (still a work in progress!). In nonfiction, Jess Scully's Glimpses of Utopia is a fascinating examination of how people all around the world are reimagining a future that is better and fairer for all, and is full of lessons that should be shared more broadly. But there is a huge amount of competition in both English language and translation markets, with our books competing against local authors writing around similar themes, and so sometimes even the most worthy books don't get taken up in the way we think they should!
How has Covid-19 changed the ways you make contacts and sell rights?
The lack of international travel and book fairs meant a significant change in the way we operate. We held Frankfurt meetings via Zoom, which despite the time zone challenges meant that we had less pressured meetings, and our publisher Lex Hirst was often able to join me to add a really personal pitch for specific titles. Using the technology to screen-share catalogues and other information was also well received. Researching and connecting with editors who might not usually attend fairs has been very valuable and those meetings will continue even when international travel is back on the agenda. We also highlighted titles on the Books From Australia website and will continue to update that and refer contacts to that resource.
What are you currently reading?
I've just finished Girl A by Abigail Dean (HarperCollins), a really gripping thriller out later this month, and I'm currently reading Barack Obama's A Promised Land (Viking).
Originally published by Books and Publishing (Read More)