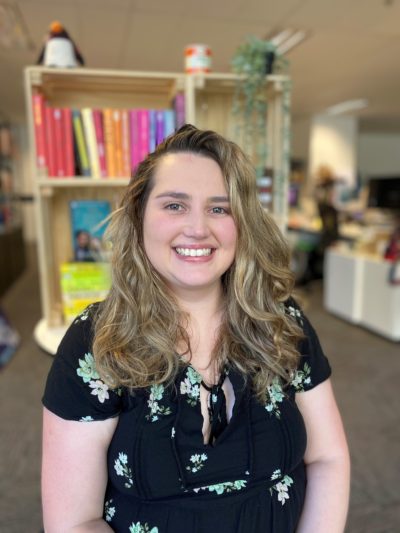 Meet PRH Australia rights executive for children's books Jordan Meek
26 May, 2021
After joining the rights team at Penguin Random House Australia three years ago, Jordan Meek now manages the publisher's children's rights in translation markets. She spoke to Think Australian.
How did you get into rights management?
It was luck that I stumbled into the world of selling rights. I was a fresh Masters of Publishing graduate, who had interned at multiple publishing houses and worked at Dymocks. I could have gone to any department at this point, but when I saw the job advertised for rights administrator, I'll admit it piqued my interest. Rights isn't a very well-known department, and we certainly didn't cover it much in class. Always up for a challenge, and the fact I had shadowed the rights manager at Pantera Press for a day, I decided I knew enough to apply (I really didn't). Thankfully, Nerrilee Weir saw something in me and here I am, three years later, handling our children's rights in translation markets!
What do you love most about your job?
It's very easy to say 'the books!' but when I think about what I do on a daily basis, the best thing about this job is the variety of roles we take on. One minute I'm wearing my best rights seller/pitching hat, and the next I'm facilitating interviews for authors, or negotiating clauses in contracts, among other things. It keeps you on your toes and there's never a dull moment! You get to meet such incredible people who are equally passionate about children's books. I'm definitely a huge 'rights nerd', I love hearing about what books are topping bestseller lists around the world, how much Netflix and Amazon are paying for book-to-film adaptions, and talking to our co-agents, scouts and foreign publishers about what's working in their market and why other genres don't work as much.
What titles are you currently pitching?
We're pitching our frontlist 2021 titles, and circling back to our 2020 recently published titles. We've seen an increase in interest in backlist series, and are focusing on gathering the necessary materials to pitch these as well. So … everything!
What have been your biggest rights successes over the past year?
We've had two standout successes over the past year. Our nonfiction title Terry Denton's Really Truly Amazing Guide to Everything by Terry Denton has sold into eight territories! And our incredibly beautiful picture book Bear and Rat by Christopher Cheng and Stephen Michael King had seven pre-publication deals, with more to come!
Which title or author on your list do you believe deserves greater recognition overseas?
I have a huge soft spot for Jess McGeachin's picture books. His balance between beautifully written stories and the warmth of his illustrations makes you want to wrap yourself up in his stories. Frankie and the Fossil is the newest title, and it makes me want a cheese sandwich, and my own dinosaur fossil as a pet.
How has Covid-19 changed the ways you make contacts and sell rights?
Covid-19 has strengthened our relationships with our co-agents, scouts and publishers all around the world. We're able to jump on a Zoom call (given the time differences works in our favour!) with our colleagues and talk about our list from the comfort of our own homes. However, it has made creating new contacts harder, as there's no in-person networking opportunities. We've been attending the online networking events that the Australian Publishers Association has been facilitating, and we have gone back to old-school cold-call emailing publishers and editors directly to set up virtual meetings.
What are you currently reading?
The Prison Healer by Lynette Noni. It's fantastic! If you like stories about surviving against all odds, intense trials where failure means immediate death, morally grey characters, mysterious love interests, and magic—then this book is for you!
Originally published by Books and Publishing (Read More)