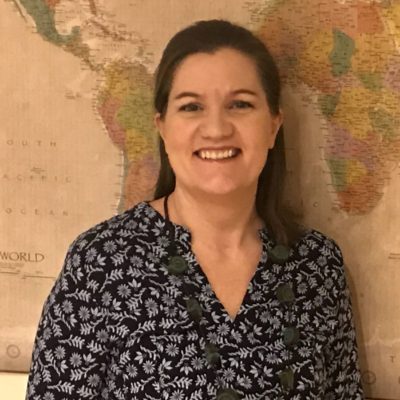 Meet Scholastic Australia rights manager Claire Pretyman
16 February, 2021
As the pandemic keeps rights sellers from meeting face-to-face, Books+Publishing is shining a regular spotlight on the work of Australian rights agents. Today, we hear from Scholastic Australia rights manager Claire Pretyman.
How did you get into rights management?

After a number of years working in Japan, I was delighted to take up a role in Penguin UK's export department upon my return. I joined at the delicate time of the closure of the company's Japanese offices and it was very satisfying to be able to use my first-hand knowledge of Japanese culture to help calm the choppy waters of the transition. When I subsequently moved from export to rights, I was surprised to find that although both areas focus on international markets, the skill set and outlook between the two are vastly different, although of course building relationships is at the heart of both.
What do you love most about your job?
Spending my days connecting with publishers from every corner of the globe who all share the same deep-felt passion for bringing books to children is an absolute privilege. Over this past year, listening to international publishers' determination to find new ways of bringing books to children has been an uplifting and inspirational experience in otherwise difficult times. Finding just the right homes for our creators' books; speaking to someone from Brazil one minute, Mongolia the next; sharing a common goal of encouraging children's literacy—the list of reasons why I love my job could go on and on!
What titles are you currently pitching?

'The Nerd Herd' series by Nathan Luff and Chris Kennett: a highly accessible, instantly appealing underdog series, which mixes humour and heart. We've accepted our first offer this week and believe much more is to come for Barny the Lamb and his friends!
We're proud to have already licensed Philip Bunting's nonfiction and picture books in 22 territories to date and Philip's latest, The Gentle Genius of Trees, is a key title for us this season. Move that Mountain, the sequel to the highly successful Room on Our Rock by Kate and Jol Temple, illustrated by Terri Rose Baynton, as well as the latest projects from Fart Boy creators Adam Wallace and James Hart, are also in high demand.
What have been your biggest rights successes over the past year?

Passing the 40 territories mark for 'The Bad Guys' series by Aaron Blabey was a lovely moment. We are currently up to 43 territories, with the latest countries to sign up being Mongolia, Lithuania, Vietnam, Georgia, Croatia and Hungary. It's exciting to explore where we can go next with the series, with Central Asia being our current focus.
Seeing the stunningly beautiful and important title Common Wealth by Gregg Dreise being picked up for the UK market has also been a recent highlight.
Which title or author on your list do you believe deserves greater recognition overseas?

Owen Swan's incredibly moving illustrations have brought publishers to tears during book fair meetings. This is quite a feat among the hustle and bustle of a book fair as you can imagine. While we have licensed Owen's picture books in a number of territories, from the US to France, Italy and Japan, I wish we could have found even more homes. We don't give up though and so I'm delighted to say that we have finalised two more deals for Owen's backlist picture books during Covid.
How has Covid-19 changed the ways you make contacts and sell rights?

For a number of years, I've tried to line up video calls with publishers that I didn't have time to meet with at the fairs, however, many were uncomfortable with the concept. This last year has changed all that and it very much feels like that change will be lasting. The question is now becoming, will physical fairs themselves return to the same degree as before? Personally, I very much hope so.
Overall, I think we have gained a lot from having to find new ways to work, although the greatest loss from not attending physical fairs are missing those chance encounters. I applaud the APA for being so proactive in setting up their new 'speed-dating' style international online networking events. I feel it's one of the strengths of Australian publishing that such collaborations are possible and they are not something you always see in overseas markets.
What are you currently reading?

I'm currently enjoying escaping with my son into the world of Sophie Anderson's The House with Chicken Legs (Usborne).
Originally published by Books and Publishing (Read More)