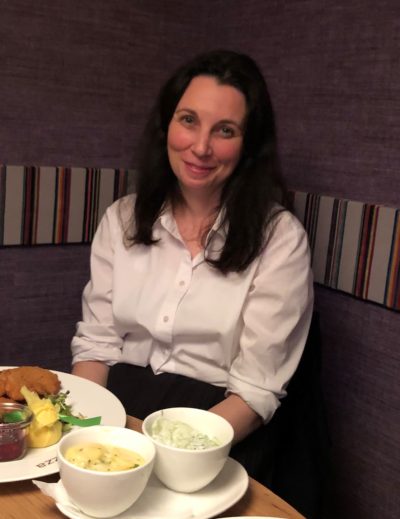 Meet UQP rights and contracts manager Kate McCormack – by Think Australian
29 September, 2020
By Think Australian

Kate McCormack has been the rights and contracts manager for Brisbane-based independent UQP for the past four years, joining the publisher after 10 years at Penguin Random House Australia and stints in the UK and India. She spoke to Think Australian about her rights list and how Covid-19 has changed the way she works.
How did you get into rights management?
In my 20s I travelled to London on a working holiday visa and started working at Foyles bookshop. I was then lucky enough to be sponsored for a position with a UK literary agency that represented writers such as William Styron, Gitta Sereny and Billy Bragg, along with the books of Arthur Upfield. I did a little rights licensing work, which I discovered I loved.
An international sales and rights job came up with Virgin Books (now an imprint of PRH UK) and it was on to there: working purely on selling rights to often commercial titles such as Losing My Virginity by Richard Branson and even the 'Black Lace' erotica series, which was very popular in Germany in those days.
I felt it was time to leave the UK and went to India where I did an internship at a small, independent publishing house. Someone brought my attention to a rights executive position with Penguin Australia and I had my interviews over a mobile phone sitting on a stoop in Chennai. I got the job. I spent approximately 10 years there and when I left my title was rights manager. I'm now rights and contracts manager with UQP.
What do you love most about your job?
A major aspect I find rewarding is garnering international exposure for UQP authors, taking their stories out to the world in as many formats as possible, and bringing in additional income for them. We all know writing is, for most authors, not a highly lucrative occupation. Licensing overseas sales or optioning film rights can result in often unexpected extra revenue, and it makes me very happy to achieve this for writers and illustrators.
Getting to understand in-depth what other countries are interested and not interested in and what's working in their territories is a fascinating part of the job. You do this by talking with publishers and comparing our markets, which is fun. You often get a real surprise at their cover interpretation. Working in rights you feel at times like an ambassador for Aussie books to the world.
What titles are you currently pitching?
UQP publishes culturally significant works across fiction, nonfiction and poetry, as well as children's and young adult, so there are many great books to pitch. I'm working on Adam Thompson's brilliant and biting collection Born into This; Mirandi Riwoe's remarkable novel set during the gold-rush era, Stone Sky Gold Mountain; Evelyn Araluen's innovative collection of poetry and prose, Dropbear; and Dr Kailas Robert's essential guide to dementia, Mind Your Brain.
In terms of middle reader titles, Kate Gordon's gothic fairytale The Heartsong of Wonder Quinn is now sellable as a series with the sequel The Ballad of Melodie Rose coming out next year. As winner of the prestigious Deutscher Jugendliteratur Preis, Steven Herrick is known around the world. A German stage production of his UQP classic The Simple Gift is currently in development. I'm discussing his new verse novel Zoe, Max and the Bicycle Bus with many agents and publishers. The Edge of Thirteen by Nova Weetman is the eagerly awaited third book featuring Clem Timmins. Rhiannon Wilde's LGBTQI+ YA romance, Henry Hamlet's Heart is already receiving interest.
Of course, there are so many more books, including Chris Flynn's unforgettable novel Mammoth that has been so well received this year, and we never forget our backlist.
Do you also acquire titles? If so, what are you currently looking for?
No, our publishers are the experts on this but if I notice something at a fair or on a trip that 'feels UQP', I'll gather details to take to the team. I also attend the acquisitions meetings.
What have been your biggest rights successes over the past year?
We've had great success with Peter Carnavas' younger reader novel The Elephant: it has sold to the UK and North America and been translated into Italian, Catalan, Chinese Simplified, German, Greek, Hungarian, Russian and Turkish. Film/TV rights have also been optioned.
We are so pleased that Melissa Lucashenko's Too Much Lip is getting the international exposure it deserves with the World English language ex ANZ licence to HarperVia, and Chinese Simplified and Italian language rights also having been sold.
We've had strong rights sales across a spread of titles this year. There has been a surge of licences to Russia for middle reader and YA books and into Chinese Simplified for books for adults.
Which title or author on your list do you believe deserves greater recognition overseas?
The White Girl by Tony Birch is a superb story about how far you go for the ones you love—a universal theme. It's sold into Arabic but should also be in so many other languages and territories. Film and stage rights have recently been optioned to Typecast Entertainment and it was chosen for the Attagirl Australian and international development project. This should help us re-bring it to the attention of the industry overseas.
How has Covid-19 changed the ways you make contacts and sell rights?
The lack of attending physical book fairs and delegation opportunities has made a huge difference in how we sell rights. It's now all pitching through Zoom, lots of emails, creating more specific catalogues to send out and working through the digital portals the book fairs are creating.
Positively, there are new houses and imprints starting around the world, often with a focus on diverse voices. So keeping your eyes peeled on international trade news and moves, along with who is listed in each online book fair catalogue, helps with making new contacts. Nothing beats those face-to-face meetings and walking the halls at fairs to see who is there and what they are publishing though.
What are you currently reading?
Since the digital Frankfurt Book Fair is starting soon it's lots of wonderful UQP manuscripts. But I also have Vesper Flights by Helen Macdonald on my bedside table and I can't wait to start that.