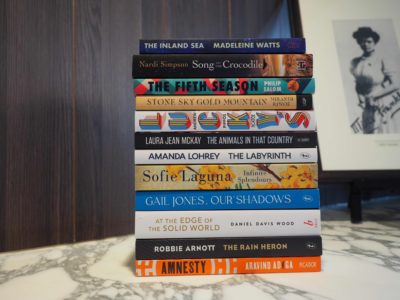 Miles Franklin Literary Award 2021 longlist announced
18 May, 2021
The longlist for the 2021 Miles Franklin Literary Award, worth $60,000, has been announced.
The 12 longlisted novels are:
Amnesty (Aravind Adiga, Picador)
The Rain Heron (Robbie Arnott, Text)
At the Edge of the Solid World (Daniel Davis Wood, Brio)
Our Shadows (Gail Jones, Text)
Infinite Splendours (Sofie Laguna, A&U)
The Labyrinth (Amanda Lohrey, Text)
The Animals in That Country (Laura Jean McKay, Scribe)
Lucky's (Andrew Pippos, Picador)
Stone Sky Gold Mountain (Mirandi Riwoe, UQP)
The Fifth Season (Philip Salom, Transit Lounge)
Song of the Crocodile (Nardi Simpson, Hachette)
The Inland Sea (Madeleine Watts, Pushkin Press).
State Library of NSW Mitchell librarian Richard Neville, who judges the 2021 award alongside author and activist Sisonke Msimang and book critics Melinda Harvey, Bernadette Brennan and James Ley, said the 2021 longlist 'is a rich mix of well-established, early career and debut novelists whose work ranges from historical fiction to fabulism and psychologism'.
'Through an array of distinctive voices these works invite their readers to engage with questions regarding the natural and animal worlds, asylum, sexual abuse, colonialism, racism and grief. These are stories about trauma and loss, and also about beauty, resilience and hope.'
The shortlist will be announced on 16 June, with the winner announcement to follow on 15 July.
Tara June winch won the 2020 Miles Franklin Literary Award for her novel The Yield (Hamish Hamilton). For more information about this year's longlist, see the Perpetual website.
Originally published by Books and Publishing (Read More)