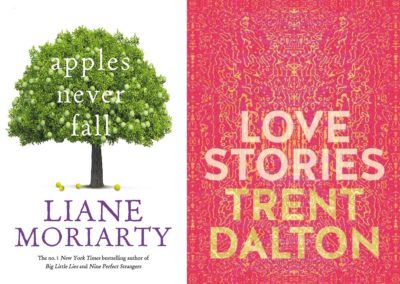 Moriarty, Dalton top Australian fiction, nonfiction charts YTD
1 April, 2022
Trent Dalton, whose 2018 debut Boy Swallows Universe remains in the top 10 Australian fiction bestsellers over three years after its publication, is at the top of Australian nonfiction charts for the year to date with his collection Love Stories, released in October last year.
Love Stories is closely followed in the Australian nonfiction chart by Edie Jaku's memoir The Happiest Man on Earth—2021's overall top-selling nonfiction title for the year.
In Australian fiction, Liane Moriarty's Apples Never Fall, released in September 2021, is well ahead of all competition, having sold more than double the number of copies sold by the next best-selling Australian novel for the year to date, Hannah Kent's Devotion.
Top 10 Australian fiction bestsellers YTD
Apples Never Fall (Liane Moriarty, Macmillan) 27,265
Devotion (Hannah Kent, Picador) 12,760
Three Sisters (Heather Morris, Echo) 10,145
Boy Swallows Universe (Trent Dalton, HarperCollins) 9735
The Dictionary of Lost Words (Pip Williams, Affirm) 9655
Love & Virtue (Diana Reid, Ultimo) 7850
The Spy's Wife (Fiona McIntosh, Michael Joseph) 7450
Treasure and Dirt (Chris Hammer, A&U) 7320
The Younger Wife (Sally Hepworth, Macmillan) 7020
The Cane (Maryrose Cuskelly, A&U) 6885
Top 10 Australian nonfiction bestsellers YTD
Love Stories (Trent Dalton, HarperCollins) 26,295
The Happiest Man on Earth (Eddie Jaku, Macmillan) 23,700
The 10:10 Diet (Sarah Di Lorenzo, S&S) 22,135
The Barefoot Investor (Scott Pape, Wiley) 15,625
She's on the Money (Victoria Devine, Penguin Life) 9505
Let Go (Hugh van Cuylenburg, Penguin Life) 9155
The Resilience Project (Hugh van Cuylenburg, Penguin Life) 8170
One Pan Perfect (Donna Hay, HarperCollins) 6065
Three Birds Renovations: Dream home how-to (Bonnie Hindmarsh, Erin Cayless & Lana Taylor, Murdoch Books) 5780
CSIRO Low-Carb Diabetes Every Day (Grant Brinkworth & Penny Taylor, Macmillan) 5495
© Nielsen BookScan 2022. Period covered: 2 January 2022 to week ending 19 March 2022. Data supplied by Nielsen BookScan's book sales monitoring system from 1000 retailers nationwide.
Originally published by Books and Publishing (Read More)