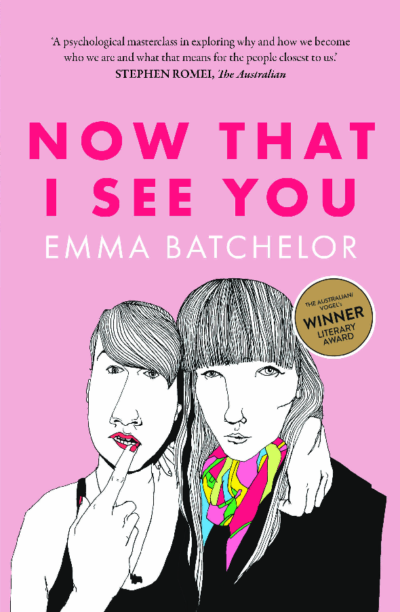 'Now That I See You' wins 2021 Vogel
2 May, 2021
Now That I See You by Canberra author Emma Batchelor is the winner of this year's $20,000 Australian/Vogel's Literary Award, for an unpublished manuscript by an author under the age of 35.
Publisher Allen & Unwin said the the novel 'details the breakdown of a long-term relationship after one partner discloses to the other that they are transgender'.
Batchelor said that the idea 'originated from and is based on my experience of my own partner's transition from presenting as male to female'.
'From the very beginning, I knew I would one day write about it, but it wasn't until we separated that I had the time and space to do so,' said Batchelor. 'I took our actual letters and my journal entries and used them as a scaffold from which to build the story. It was also important to me not to speak for my partner or to tell her story.'
The 2021 award was judged by former literary editor of the Australian Stephen Romei and previous winner of the award Hsu-Ming Teo.
Romei said the novel is 'a psychological masterclass in exploring why and how we become who we are and what that means for the people closest to us'.
'This is a novel about love—of others and of self—and wants and needs and urges,' said Romei. 'The lovers at its centre have their own particular challenges, but deep down they could be any couple.'
Teo said: 'The story is an absorbing page-turner from the start, narrated in the first person with deceptive simplicity through a mix of diary entries, emails, to-do lists, and letters that contain enough variety to keep the narration fresh, and to keep driving the story forward. This is clever because it allows the narrator's strong, direct voice to cut through, expressing her raw, real emotional upheaval and creating a persuasive impression of authenticity. The broader portrait of a relationship crumbling, and the questions raised about what it means to love, are things everyone can identify with.'
Told from the perspective of a female narrator over a period of 18 months, the novel is split into three parts: Us, Them and Me, each with a different area of focus—the narrator's relationship and how it is impacted by her partner Jess's disclosure that they are transgender, Jess and the beginnings of their transition, and the narrator and her attempts to put herself back together.
'This is my lived experience,' said Batchelor. 'Being in a relationship with a transgender person, suffering a mental illness and eventually getting myself back together.'
The Australian/Vogel's prize, which notably launched the career of Australian authors Tim Winton and Kate Grenville among others, was in 2020 awarded to A Treacherous Country by Tasmanian author K M Kruimink.
The 2021 winner was announced on Friday, 30 April and the book published immediately.
Originally published by Books and Publishing (Read More)