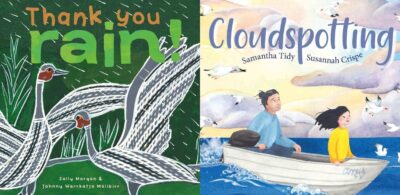 Pitching pictures at Bologna
21 February, 2023
Experiences in nature fill many of the picture books on offer from Australian publishers at Bologna this year. Thank you rain! (Sally Morgan & Johnny Warrkatja Malibirr, Magabala Books) is full of the plants and animals that welcome rain: raindrops in the treetops; birds singing in the rain; raindrops wetting the dry earth and filling creek beds; birds, and frogs all enjoying the rain. Also from Magabala, Silver Leaves (Gladys Milroy) tells the story of Owl and Night Parrot, who are both nocturnal. They have a lovely big tree well away from all the noisy birds, until one day they are woken up by the birds fighting over space in their tree–a story about conservation, working together and hope.
In Night Ride (Sally Soweol Han, UQP), a boy heads home with his mother after a busy day in the city. There's so much noise! When they need to make a stop because the bus has a flat tyre, the boy follows a firefly and discovers a peaceful world of nature sounds and sweetness. In Cloudspotting (Samantha Tidy & Susannah Crispe, Windy Hollow Books), a father and daughter share a special time catching crabs but also treasuring being on the water and appreciating what is around them. And in The Garden at the End of the World (Cassy Polimeni & Briony Stewart, UQP), Isla finds a rare plant and her mother tells her about a vault hidden in a frozen mountain on the other side of the world. Soon the mother and daughter head off to deliver their precious parcel to the garden waiting at the 'end of the world'.
Animals are a focus in Brilliant (Rosi Ngwenya & Sandy Flett, Riveted Press) which offers an insight into the life cycle of an ant 'in a truly humorous and educational way', according to Bold Type Agency, as well as in Little Shark Lulu is Sleeping (Interactive Publications) which is 'a gentle introduction to the importance that sharks play in keeping our marine environment sustainable', while in Alice the Kangaroo (Interactive Publications) Alice's mob leave her in the dust, and she spends most of the book trying to catch up with them—with the help of a friendly galah.
Connection and culture
Connection, friendship and culture are at the heart of several picture books on offer at Bologna. The Month That Makes the Year (Inda Ahmad Zahri) is a picture book exploring the month of Ramadan through the eyes of a Muslim child (A&U 2023; Annabel Barker Agency); from acclaimed author Lian Tanner comes When the Lights Went Out (illustrated by Jonathan Bentley, A&U), 'a cosy, reassuring and beautifully illustrated picture book about finding warmth and connection in community'; Knock Knock (Catherine Meatheringham & Deb Hudson,Windy Hollow Books) invites readers to knock on doors all over the world and see how people live, in 'a wonderful exploration of language and culture', while All in a Day (Berbay) Chihiro introduces kids to the concept of reading a clock in a celebration of community; it follows the comings and goings of everyone in the same apartment building and what happens at each hour of the day.
Gus (Berbay) is 'a funny, heartfelt story about friendship and aging' that is the perfect choice for fans of A Sick Day for Amos McGee. Friendship is also at the heart of Bertie and the Ginger Cat (Bex Parkin, Red Paper Kite), a classic story overflowing with exquisite flora and fauna ('You will want to live in this book' says Bold Type Agency).
'Jon Klassen meets Carson Ellis' in Bear and the Little Green Thing (Diandian, Berbay), about an unlikely friendship between a bear and a sapling by a Bologna Book Fair Illustrators Exhibition winner.
Creativity
The Paper-Flower Girl (Margrete Lamond & Mateja Jager, Dirt Lane Press), featuring a giant who lives on the hill and an artistic young girl who wants to make art for all, 'has a fairy tale feeling to it' says Bold Type Agency.
Also represented by Bold Type, in What will You Make Today? (Maura Pierlot & Triandhika Anjani, Storytorch Press) the creators 'offer a wonderful prompt for children to think actively about how they use their time and the endless possibilities', while in Ship Ahoy Box Boy (Mal Webster, Windy Hollow Books) 'a boy shows what's possible with some creativity and your imagination'.
In Fix-It Ninget, from the imagination of 12-year-old artist Luca French (Five Mile) readers are introduced to a 'fantastical realm bursting with creatures who work together to find creative solutions to everyday problems'; while in The Storytellers (Interactive Publications) the reader sees how 'the germ of an idea sparks different inspirations among children from diverse cultures, leading to interesting careers'.
In We Children and The Narrow Road to the Deep North (Interactive Publications) Izumi, Ren and little Yoshi are eagerly awaiting the arrival of the famous poet Bashō in their village. It is 17th century Japan and the poet is walking far to the north, writing his now world-famous haiku.
Inspiration and wellbeing
Chill Out: A Wellness Book for Toddlers (Anna Pignataro,Windy Hollow) is the first in a new series of board books from the author and illustrator. The next titles in this series are Love Green, Be Kind and Go Wild (Bold Type Agency).
Finding Kutopia (Five Mile) presents a gorgeously illustrated world filled with colourful Kutopian critters, who will help guide young readers through a magical exploration of different feelings—big and small, while Can You Teach a Fish to Climb a Tree (Jane Godwin, illus by Terry Denton, Hardie Grant Children's Publishing) is 'a quirky and inspiring book about the power and peace to be found in not trying to be anyone else': Can a fish climb a tree? Can a horse drive a car? And if they can't, what wonderful things can they do?
In Mia's Glamma (Josie Montano, illus by Carla Hoffenberg, Interactive Publications) Mia's grandmother is anything but a cliche. She wears the latest fashions, runs marathons, owns a restaurant and provides an excellent model for Mia to look up to in understanding what older persons can be, while the Young Queens series (Megan Hess, Hardie Grant Children's Publishing) offers a collection of original fairy tales about young girls discovering their power.
Finally, what is better for wellbeing than a laugh? Jimmy Bottoms (Mary Anastasiou, illus by Alex Patrick, Five Mile) is 'a hilariously fun story about a cheeky boy and a wayward fluff!'. It will take readers on an adventure through the town to catch 'the fluff on the loose'.
Originally published by Books and Publishing (Read More)