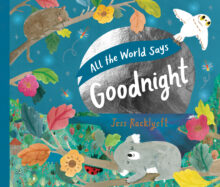 Spotlight on Jess Racklyeft
21 February, 2023
Melbourne-based author and illustrator Jess Racklyeft has been awarded a Society of Children's Book Writers and Illustrators (SCBWI) International Bologna Scholarship to attend this year's Bologna book fair. Here she shares her journey to illustration and writing, upcoming projects, the illustrators she admires and why she cried at Bologna the last time she visited.
How did you come to illustrating and then to writing?
I have always wanted to be an illustrator and took a fairly winding path to get there. After university I travelled, then worked in publishing for almost a decade selling books and working with booksellers whilst drawing in my spare moments. In 2012 I was on maternity leave and finally decided to give my dream of illustrating a good crack (whilst not sleeping a great deal). I received my first book offer that year, and have now illustrated over 30 books.
Writing on the other hand was encouraged by a publisher! The lovely Clair Hume (currently at UPQ but at this time with Affirm Press) as well as the talented Davina Bell gave me a (kindly) push to try writing after I probably wrote one too many rambling emails. These first books were the 'There's Only One' series and have done well enough to encourage me to write quite a few more, including Welcome Baby and All the World Says Goodnight with Affirm Press.
What other Australian illustrators do you admire or find inspiring to your work?
I am part of a great 'Authorstrator' group and very inspired by this talented community, such as Heidi McKinnon, Zeno Sworder, Anna McGregor, Sher Rill, Evie Barrow, Lucinda Gifford, Jess McGeachin and Renee Treml, among many more. Anna Walker is also referred to as 'Yoda' as she is so generous with her support and mentoring over many years, not to mention brilliant, and is a huge inspiration to me.
Can you tell us about any upcoming projects you are working on at present?
I am wrapping up a huge book with Affirm Press currently. It is called Australia: Country of Colour and covers the rainbow of Australian plants and animals in watercolours—my first nonfiction authored book. It has been a true delight to work on—as well as challenging trying a big nonfiction book (with much support from Tash, the publisher, and Samone Amba, editor), and I have been blown away with the design by Kristy Lund-White who has pieced my hundreds of paintings together beautifully.
In April I am excited to also share my first more narrative picture book, which is also quite a personal story about lockdown—a very tricky time for us Melbournites! It is called Big Cat, published by Allen & Unwin and explores the city of Melbourne through the eyes of a wild cat, lured to the city by a small girl and her well-placed cans of tuna, who learns how to experience her city in a new way. It feels cathartic and a bit of a love story to Melbourne, even through a couple of tough years.
I am also winding up two very fun books written by Maggie Hutchings. One is a follow up to The Book for Happy Hearts, and the other is all about beloved (and somewhat dishevelled) favourite books. She is an outstanding writer and the books are very fun to work on!
Do you have an agent? How your projects come about?
My lovely agent is Jacinta DiMase, who is an inspiring person in business, her vocal support for the industry, and life. Because I have been illustrating for quite awhile now, most of my projects are through my longer term relationships with publishers but I also occasionally do receive opportunities that Jacinta wonderfully manages! For example later this year a book with CSIRO Publishing The Forgotten Song will be released, written by Coral Vass, a beautiful nonfiction book about the regent honeyeater.
What are you hoping to get from the SCBWI Scholarship?
I was very lucky to attend the Bologna Book Fair 11 years ago when I sold co-editions for a publisher. It was such an inspiring time—even with only one hour that I wasn't in meetings selling books! In that one hour I visited the international exhibition of illustrators and cried—a mixture of exhaustion and inspiration, and knowing that illustrating was what I really wanted to do. Attending this year feels like a very big circle, going back as an illustrator. I am hoping to network with our international community, get to know more publishers, authors and illustrators both from Australia and abroad. I am going to meet with my North American publisher of Iceberg, the agents that work with Affirm Press, draw live on the Australian stand, and be part of an 'illustration battle' on the SCBWI stand! I will have my portfolio shown there, spend many hours this time at the exhibition and I am sure to be blown away by the talent once again.
Originally published by Books and Publishing (Read More)