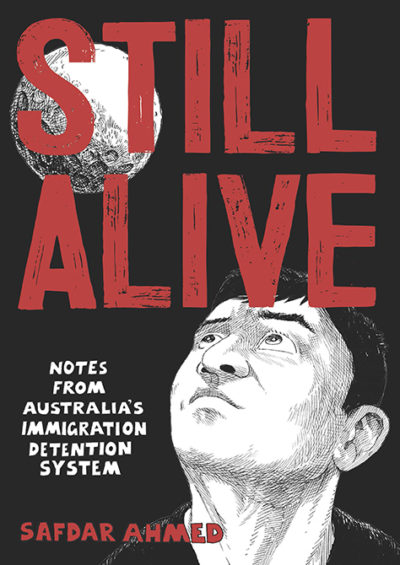 'Still Alive' sells to Fantagraphics
3 August, 2021
Melbourne graphic novel publisher Twelve Panels Press has sold world English rights (ex ANZ) to Safdar Ahmed's Still Alive to Gary Groth at Fantagraphics, to be published under the Fantagraphics Underground imprint.
Interweaving journalism, history and autobiography, Still Alive is the result of Ahmed's visits to Sydney's Villawood Immigration Detention Centre, beginning in 2011, where he met, talked and drew with people who arrived in Australia by boat. Groth likened Still Alive to the work of Joe Sacco and described it as 'a powerful and intimate indictment of Australian government barbarity'.
This is the first rights sale for Twelve Panels Press, which published Still Alive in April 2021. The small press was established in 2015 by former Allen & Unwin publisher Erica Wagner, academic Elizabeth MacFarlane and writer and illustrator Bernard Caleo.
'In terms of English-language comics publishers driving the medium and championing a range of voices and subject matters, Fantagraphics has had the greatest impact on broadening the idea of what is considered "comics" in the 21st century,' said Caleo.
'Twelve Panels Press are honoured to be associated with such a trailblazing, fearless publisher and this is a massive boost to our own project: working with comic-book makers to edit, design and publish graphic novels, and delivering their books to literate and diverse audiences.'
A Sydney-based artist, musician and educator, Ahmed is the author of Reform and Modernity in Islam (I B Tauris) and in 2015 won a Walkley Award for his documentary web comic Villawood: Notes from an immigration detention centre. He is a founding member of the community art organisation Refugee Art Project, a member of eleven, a collective of contemporary Muslim Australian artists, curators and writers, and also sings and plays guitar with the anti-racist death metal band Hazeen.
Ahmed said of his book deal with Fantagraphics, 'For most of my life I've adored Fantagraphics, who print a tonne of my heroes including Robert Crumb, Joe Sacco [and] Dan Clowes … It's something I never dreamed would occur.'
Fantagraphics will publish Still Alive in the second half of 2022.
Originally published by Books and Publishing (Read More)