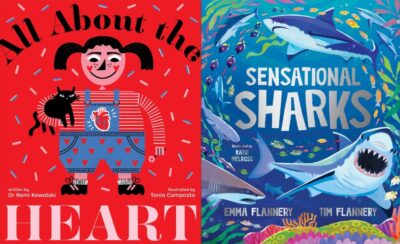 The fascinating truth: Nonfiction titles on offer at Bologna
21 February, 2023
In nonfiction the 'long-awaited' picture book Your Brain is a Lump of Goo from Idan Ben-Barak (A&U), the award-winning author of Do Not Lick This Book, and Christopher Nielsen. It explores 'the biggest and most mysterious organ in the human body' with expertise and humour, says A&U, while All About the Heart (Berbay) will give curious kids the answers to all their questions about that other important organ, the heart, from leading paediatric cardiologist Remi Kowalski. The first book in a nonfiction series authored by medical experts it is 'designed to be read cover to cover'.
Animals small and large are the focus of several nonfiction titles. An extinct animal is the subject of Thylacine (ed by Brandon Holmes & Gareth Linnard, CSIRO Publishing) which profiles the extinct 'Tasmanian tiger', examining its ecology, evolution, encounters with humans, and extinction as well as final chapters exploring 'the future for this iconic species—a symbol of extinction but also hope'; meanwhile Extinct (Benjamin Gray, CSIRO Publishing) is a collection of artworks from Australian artists, each depicting a now extinct Australian animal, accompanied by stories of each animal 'to lament their loss, but also to celebrate their former existence'.
Taking a look under Australia's waters is Pete Cromer: Sealife (Five Mile) which introduces 18 of the country's unique aquatic creatures through Cromer's 'bold and beautiful animal portraits' in this 'gallery-in-a-book', while Sensational Sharks (Tim Flannery & Emma Flannery, illus by Katie Melrose, Hardie Grant Children's Publishing) invites readers on an exciting expedition in a brand-new picture-book series that 'deep-dives into some of the weirdest creatures around the world!' And to creatures on the smaller side: Eyes on Flies (Bryan Lessard, Pan Macmillan 2022) is being pitched by Annabel Barker Agency.
Also in nonfiction CSIRO Publishing has Ending Plastic Waste (Britta Denise Hardesty, Kathryn Willis, Justine Barrett and Chris Wilcox), a collection of stories, advice and information from experts that 'provides a broad outlook on how various waste programs from different countries are protecting our planet'.
From independent educational publisher Pascal Press are the Targeting range of primary workbooks. The range addresses all key learning areas of primary literacy, numeracy, handwriting and humanities and social sciences, with series on writing skills, maths problems solving, phonics, homework and grammar. Also from Pascal Press is the Catch Up Maths series—written for students struggling with primary maths, the books take maths concepts back to their foundation, and ensure that concepts are consolidated by offering hundreds of coaching videos accessed via QR codes.
Finally, look out for Powerful Princesses (Angela Buckingham, illus by Anne Yvonne Gilbert, Five Mile), fast-paced stories that 'come from every corner of the world and across history' and share each in their own way, a powerful princess.
Originally published by Books and Publishing (Read More)