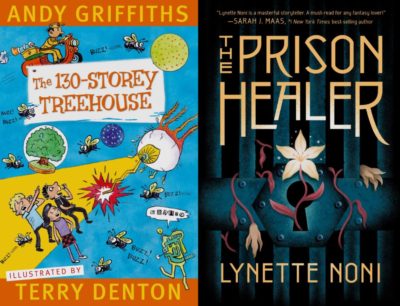 'Treehouse' titles top children's fiction, nonfiction charts YTD
1 January, 1970
Andy Griffiths and Terry Denton's 'Treehouse' series—which celebrates 10 years in print this year—has topped the Australian children's fiction chart (The 130-Storey Treehouse) and Australian children's/YA nonfiction chart (The Treehouse Joke Book 2) for the year-to-date. It's one of several children's book series charting strongly in the first four months of the year.
In Australian children's picture books, Bluey—the popular children's television series that has turned into a publishing phenomenon—continues to dominate the market. In the charts below we've excluded Bluey titles in order to showcase a greater variety of titles. However, if we were to include the series, there would be seven Bluey titles in the top 10 picture books and three in the top 10 children's fiction—accounting for 300,000 copies in total.
Also making an impressive showing in the charts are Anh Do and Lynette Noni. Do has seven titles from four different series in the Australian children's fiction chart, while Noni has four from three, including the chart-topping The Prison Healer, the first instalment in the author's newest YA fantasy trilogy.
Australian picture books YTD*
Where Is the Green Sheep? (Mem Fox, illus by Judy Horacek, Puffin) 11,503 copies
Ten Little Fingers and Ten Little Toes (Mem Fox, illus by Helen Oxenbury, Puffin) 11,280 copies
Do Not Open This Book Ever (Andy Lee, illus by Heath McKenzie, Lake Press) 7793 copies
Give Me Some Space (Philip Bunting, Omnibus Books) 7764 copies
Welcome, Baby, to This World! (Jess Racklyeft, Affirm) 7756 copies
Where's the Golden Egg? (Bill Hope, Scholastic) 7130 copies
Back to Sleep (Zoë Foster Blake, Puffin) 6159 copies
Where's Easter Bunny (Louis Shea, Scholastic) 6100 copies
Kissed by the Moon (Alison Lester, Random House Australia) 6076 copies
All the Ways to be Smart (Davina Bell, illus by Allison Colpoys, Scribble) 5782 copies
*excluding Bluey titles
Australian children's fiction YTD*
The 130-Storey Treehouse (Andy Griffiths & Terry Denton, Pan) 24,056 copies
Ninja Toys! #7: Ninja Kid (Anh Do, Scholastic) 23,310 copies
The Traitor: Wolf Girl 4 (Anh Do, A&U) 19,745 copies
Into the Wild: Wolf Girl 1 (Anh Do, A&U) 14,028 copies
Tasty Weird #16: Weirdo (Anh Do, Scholastic) 12,497 copies
The Great Escape: Wolf Girl 2 (Anh Do, A&U) 11,431 copies
The Secret Cave: Wolf Girl 3 (Anh Do, A&U) 11,124 copies
Robofight: E-Boy 2 (Anh Do, A&U) 10,236 copies
Bad Guys Episode 12: Bad Guys (Aaron Blabey, Scholastic) 10,039 copies
The 13-Storey Treehouse (Andy Griffiths & Terry Denton, Pan) 9288 copies
*excluding Bluey titles
Australian YA fiction bestsellers YTD
The Prison Healer (Lynette Noni, Penguin) 7756 copies
The Boy from the Mish (Gary Lonesborough, A&U) 2966 copies
The Left-Handed Booksellers of London (Garth Nix, A&U) 2219 copies
Whisper and Weapon bind-up (Lynette Noni, Pantera ) 2193 copies
Akarnae: Medoran Chronicles Book 1 (Lynette Noni, Pantera) 1849 copies
The Other Side of the Sky (Amie Kaufman & Meagan Spooner, A&U) 1747 copies
None Shall Sleep (Ellie Marney, A&U) 1451 copies
The Secret Runners of New York (Matthew Reilly, Macmillan) 1445 copies
Aurora Rising: The Aurora Cycle 1 (Amie Kaufman & Jay Kristoff, A&U) 1387
Raelia: Medoran Chronicles Book 2 (Lynette Noni, Pantera) 1231 copies
Australian children's/YA nonfiction YTD
The Treehouse Joke Book 2 (Andy Griffiths & Terry Denton, Pan) 9186 copies
Girl Stuff 8-12 (Kaz Cooke, Viking) 8269 copies
Australia (Pete Cromer, Five Mile) 6615 copies
The Treehouse Joke Book (Andy Griffiths & Terry Denton, Pan) 6503 copies
Penguin Bloom (Young Readers' Edition) Chris Kunz, Harry Cripps & Sha Grant, ABC Books) 5074 copies
Unbinders: Origami Anything! (Matthew Gardiner, Hinkler Books) 3816 copies
Young Dark Emu (Bruce Pascoe, Magabala) 3432 copies
The Illustrated Encyclopaedia of Dangerous Animals (Sami Bayly, Lothian) 3269 copies
Terry Denton's Really Truly Amazing Guide to Everything (Terry Denton, Puffin) 3133 copies
Be Your Own Man (Jess Sanders, Five Mile) 3006 copies
© Nielsen BookScan 2021 Period covered: 3 January 2021 to 1 May 2021
Data supplied by Nielsen BookScan's book sales monitoring system from 1500 retailers nationwide
Originally published by Books and Publishing (Read More)