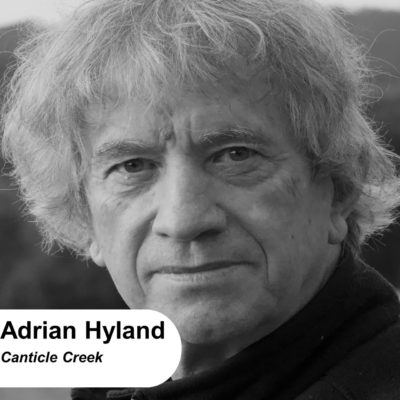 Ultimo acquires Hyland crime fiction in two-book deal
2 June, 2021
Ultimo Press has acquired world rights to Canticle Creek and a second book by crime writer Adrian Hyland.
'When Adam Lawson's wrecked car is found a kilometre from Daisy Baker's body, the whole town assumes it's an open and shut case. But Jesse Redpath isn't from Canticle Creek,' says Ultimo of the novel. 'When Jesse starts to ask awkward questions, she uncovers a town full of contradictions and a cast of characters with dark pasts, secrets to hide and even more to lose.'
'For many years I've been passionate about the Australian wilderness,' said Hyland. 'I've lived in its deserts and forests, I was born and raised on its hardscrabble plains. The land matters, and it's in peril. Climate change is real and seemingly unstoppable but still I hope; I write because words are my only defence against this implacable enemy.'
'Adrian is a master craftsman,' said Ultimo managing director James Kellow. 'The effortless reading tells you all you need to know about how intensely he has worked the elements of Canticle Creek into a deeply satisfying crime thriller: the landscapes and settings sting us with their authenticity, the characters illuminate and the big themes of nature, art and climate are sprinkled through as hard-earned drops of wisdom.'
Hyland's Diamond Dove won the 2007 Ned Kelly Award for best first novel, and was followed by Gunshot Road and the nonfiction work Kinglake-350 (all Text), which was shortlisted for the 2012 Prime Minister's Literary Award for nonfiction. His books have been published internationally, including in the UK and US, and translated into several languages including German, French, Swedish and Czech.
Ultimo Press will publish Canticle Creek in December 2021. Hyland's second book with Ultimo is due for publication in December 2022.
Originally published by Books and Publishing (Read More)