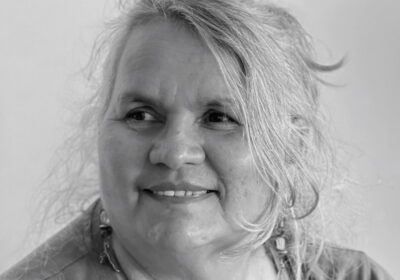 We Come With This Place: Debra Dank on her debut and what comes next
5 April, 2023
Ahead of the London Book Fair, Think Australian talks to author Debra Dank, whose debut memoir is in the running for three NSW Premier's awards and the Stella Prize, about the book's journey to publication, what she hopes international readers might take from it, and plans for her second book.
Your book We Come With This Place (Echo) has been shortlisted for three NSW Premier's literary awards and longlisted for this year's Stella Prize. Can you tell us about your process of writing it?
Certainly the lead up to the book kind of happened in all the ways you listed—years in the making, in a burst, winding, ruler straight, collaborative and yes, insanely private but created for public sharing. It is the recount of some of the events which have shaped and impacted lives in my family. As a process then to complete the PhD, it was important and significant to do justice to those whose acts have been recounted in words. I was conscious of treating all of those 'characters' with the utmost respect but also with the gentle love I have always received in my family.  And I needed to remain true to who they are and what they did and not create a false, shiny new discourse.
Due to the book starting its life as part of my PhD, with no intention to be a book, my supervisor was so very supportive and helpful in making me understand that I could shape this into what I would like for it to be. She was truly such a big part of what the final product is. For example, I didn't want chapters because that is not how these stories work, so she said, 'don't have chapters'. Associate Professor Antonia Pont provided the opportunity for me to be courageous in making this work for these stories hence episodes and the nonlinear storying as it exists in my community became the format of this narrative collection.
Can you share what considerations or protocols you had to think about when telling this story? 
Both my parents have passed away but for many years, both mum and dad urged me to write down some of our stories. My parents are amazing people—I cannot speak of them in the past tense because they are still here—so I had their desire and permission to write about our stuff. I really wanted them to be represented in ways that were authentic, and again, not shiny. My aunt was also part of the permissions that were vitally important to me. She was beside me as I raised my children on Country. She is also now passed away, but she taught me so much about being Gudanji/Wajaka, she walked me and my children across our Country and taught us with more patience than a human body should be able to contain. I tried desperately hard to be what my parents and my aunt would expect of me.
Non-human relationships and the protocols of how my community engages with our non-human kin was and remains a normal behaviour. It's how and what we do as Gudanji/Wakaja people. Listening carefully, in ways that are different to the understanding I have of the utilisation of a 'sense', is done through a whole-of-body listening. Only when we listen with our whole body do we hear the stories of those non-human kin. If we, Gudanji/Wakaja mob, don't listen in this way, then we lose the opportunity to live well with Country and then bad things happen. This is one of the big protocols I was taught as a child and it is one of the big protocols that I have taught my own children. (more…)
Originally published by Books and Publishing (Read More)